Elon Musk's Nightmare Just Came True
Posted July 15, 2020
---
So, has anything interesting happened to Tesla lately?
Unless you've been living under a rock, which might be a possibility given the pandemic climate we find ourselves trading in today, it's a safe bet that you've seen a story or two regarding the world's best hype man.
Tesla's stock move recently was nothing short of spectacular: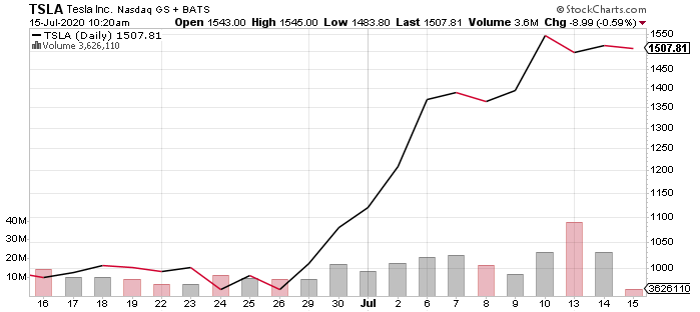 Was the move justified? Of course not.
The sentimental valuation spiked as nearly 40,000 Merry Men fanboys in Sherwood Forest couldn't get enough of the stock.
After all, it's the popular bet these days, isn't it?
Why wouldn't they believe that?
Not long after the wild swing higher, some on Wall Street were screaming that Tesla's stock is going to move even higher. Piper Sandler boosted its price target to $2,322 earlier this week.
For the sake of the tulip holders at $1,794.99, let's hope the hype train finds a new round of suckers.
Just think, Tesla's market cap zoomed past $300 billion, surpassing Exxon's 2019 value. Just pay no mind to the fact that Exxon generated almost 10 times more revenue than Tesla last year.
No, the sentimental traders expect to ride this "sure thing" to Mars… again.
But will they? Maybe not.
You see, Elon has a secret.
In fact, it's one that has been hiding in plain sight for years.
And despite rocketing past Warren Buffett on the billionaire's list after the $6 billion uptick he received last Friday, this recent stock leap should be utterly frightening for Musk.
Musk's public answer to this momentous stock move was a simple, "Wow."
Yet, his stoic, humble response is a far cry to the internal stress that is now most likely shaking him to his core.
For Elon Musk, the nightmare has just started.
Now he HAS to deliver.
The Best Free Investment You'll Ever Make
Our analysts have traveled the world over, dedicated to finding the best and most profitable investments in the global energy markets. All you have to do to join our Energy and Capital investment community is sign up for the daily newsletter below.
You'll also get our free report, "Lithium Outlook 2022: Bracing for the Next Big Shortage."
Elon Musk's Nightmare Just Came True
Look, I want to believe too.
Musk's plan to build a plant in Shanghai to churn out Model 3 cars would directly tap into China's domination of the global EV market.
He even has some ambitious expansion goals here in the U.S.
Last month, Tesla snapped up about $5 million worth of land near Austin to set the stage for a new factory.
The company even got a nice $14.7 million in tax breaks from Travis County, Texas.
Pushing the current pandemic crisis aside, there are some legitimate reasons to be bullish on Tesla's future... maybe not enough to warrant shares costing $1,794.99 apiece, but I understand the growth potential.
So why is Musk secretly in such distress?
The elephant in the room is the extraordinary amount of energy metals that will be needed to build tomorrow's electric vehicles.
If the biggest investment in the energy sector over the last decade was tight oil, it's clear that the next 10 years will be ALL about batteries –– and the energy metals they're made of!
Here's how just a few of the essential ingredients to building batteries will perform between now and 2030:
Musk knows this, and it's the reason why Tesla and automakers around the world are each making strong transitions toward all-electric fleets –– and desperately trying to secure their own supplies of these resources.
Most investors can tell me what Elon's latest tweet was, yet they had no idea that Tesla inked a crucial long-term deal a few weeks ago to buy cobalt from Glencore directly.
Not only will more companies follow Tesla's lead, but it's one of the best ways that individual investors like us can take advantage of Musk's growing addiction.
What's your next step?
Until next time,
Keith Kohl

Check us out on YouTube!
A true insider in the technology and energy markets, Keith's research has helped everyday investors capitalize from the rapid adoption of new technology trends and energy transitions. Keith connects with hundreds of thousands of readers as the Managing Editor of Energy & Capital, as well as the investment director of Angel Publishing's Energy Investor and Technology and Opportunity.
For nearly two decades, Keith has been providing in-depth coverage of the hottest investment trends before they go mainstream — from the shale oil and gas boom in the United States to the red-hot EV revolution currently underway. Keith and his readers have banked hundreds of winning trades on the 5G rollout and on key advancements in robotics and AI technology.
Keith's keen trading acumen and investment research also extend all the way into the complex biotech sector, where he and his readers take advantage of the newest and most groundbreaking medical therapies being developed by nearly 1,000 biotech companies. His network includes hundreds of experts, from M.D.s and Ph.D.s to lab scientists grinding out the latest medical technology and treatments. You can join his vast investment community and target the most profitable biotech stocks in Keith's Topline Trader advisory newsletter.
Energy Demand will Increase 58% Over the Next 25 Years
Trillions will be spent to secure the world's energy supply over the next two decades...and all sources are on the table. Oil, natural gas, solar, wind. There will be money made. Follow the money trail. Sign up for Energy and Capital now - it's entirely free!
We never spam! View our Privacy Policy
After getting your report, you'll begin receiving the Energy and Capital e-Letter, delivered to your inbox daily.