Cobalt Forecasts 2020: Risk, Reward, and Redemption
Posted October 9, 2019
---
Few markets have been hit harder over the last couple years than cobalt.
The meteoric rise in cobalt prices that took place between 2016 and 2018 was followed by an incredible price collapse that cut 70% off its value.
It wasn't hard to see why prices had skyrocketed suddenly...
Investors quickly caught on to how critical blue gold will be for us going forward — regardless of whether we live in a high OR low carbon future!
Robust projections were clear that demand for lithium-ion batteries would grow as more EVs hit the road. And it wasn't long before more and more countries stated that they were banning traditional fossil-fueled vehicles.
But the good times didn't last, as cobalt prices tumbled from record highs of nearly $45 per pound: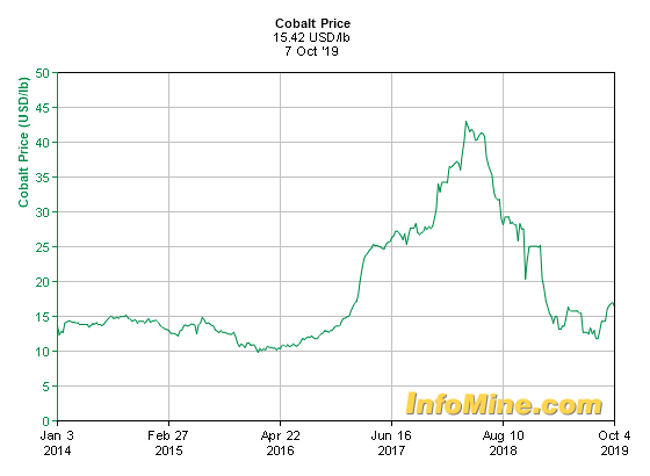 Cobalt Supply and Demand: Our Electric-Fueled Future
Like I said, few other markets have felt this kind of pain since 2018.
Over the last two years, cobalt prices fell to around $12 per pound in July of 2019.
So what happened?
Several things, actually.
Perhaps the biggest catalyst was triggered after the Democratic Republic of the Congo (DRC) boosted supply. If you recall, more than two-thirds of the world's mined cobalt stems from the DRC. With strong EV projections being released, there was a veritable rush for miners to take advantage of high prices.
Unfortunately, this oversupply of cobalt doesn't bode well for the near term, with a potential supply crunch not projected until as far out as 2023.
If nothing else, there are two bullish catalysts still open for cobalt investors.
The first is the obvious state of the DRC.
When 66% of the world's mined cobalt is being extracted inside a country with a huge potential for geopolitical volatility, you can see how quickly a crisis could spring up.
In August of 2019, the world's largest cobalt producer announced it was placing its Mutanda mine on care and maintenance due to weak prices.
To put a little perspective on this, keep in mind that Glencore's Mutanda mine accounts for roughly 20% of global supply and is the world's largest source for cobalt.
As you would expect, that has given cobalt investors a little bit of reprieve, with cobalt prices rising approximately 33% since the announced shutdown.
The second catalyst revolves around how quickly the world makes its transition to electric vehicles.
The longer your outlook, the bigger the profit windfall will be for cobalt.
Nearly every projection we've seen still calls for significant EV penetration into the auto sector.
Below, you can see that BloombergNEF's latest Electric Vehicle Outlook 2019 projects that by 2040, 57% of all passenger vehicle sales will be electric:
Although we're not expecting to see in 2020 anywhere near the same kind of price explosion that we did between 2016 and 2018, the question now is whether or not investors are looking at the bottom.
If so, there's only one place for the price to go from here.
The Best Free Investment You'll Ever Make
Our analysts have traveled the world over, dedicated to finding the best and most profitable investments in the global energy markets. All you have to do to join our Energy and Capital investment community is sign up for the daily newsletter below.
You'll also get our free report, Cobalt is the Least Discussed Commodity Ever
Cobalt Forecast 2020: Risk, Reward, and Redemption
Are you willing to bet on the DRC's stability for the next decade?
Me neither.
You see, some of that supply increase out of the DRC was from artisanal mines.
Both of us know full well the tragic story behind production from these mines. We've talked before about the blood metal curse attached to cobalt; it wouldn't take much for a public outcry at this outrage for big companies to avoid them.
Apple has already stated its goal to only use ethical cobalt.
Where does this leave investors?
The true winners in the cobalt market will be long-term investors that capitalize on the current price conditions.
Another potentially bigger winner in the cobalt space could be right here in North America. As you know, the United States relies heavily on foreign imports to meet its current need for cobalt.
In fact, the Department of the Interior published a list of 35 mineral commodities in 2018 that it deemed critical to the economic and national security of the U.S.
Now consider that we import roughly 75% of our cobalt, most of which comes directly from China.
This has spurred the government into action, with President Trump announcing this past June that his administration will accelerate the development of projects on federal lands targeting these critical minerals.
You're going to want to keep an eye on this one.
Stay tuned.
Until next time,
Keith Kohl

Check us out on YouTube!
A true insider in the technology and energy markets, Keith's research has helped everyday investors capitalize from the rapid adoption of new technology trends and energy transitions. Keith connects with hundreds of thousands of readers as the Managing Editor of Energy & Capital, as well as the investment director of Angel Publishing's Energy Investor and Technology and Opportunity.
For nearly two decades, Keith has been providing in-depth coverage of the hottest investment trends before they go mainstream — from the shale oil and gas boom in the United States to the red-hot EV revolution currently underway. Keith and his readers have banked hundreds of winning trades on the 5G rollout and on key advancements in robotics and AI technology.
Keith's keen trading acumen and investment research also extend all the way into the complex biotech sector, where he and his readers take advantage of the newest and most groundbreaking medical therapies being developed by nearly 1,000 biotech companies. His network includes hundreds of experts, from M.D.s and Ph.D.s to lab scientists grinding out the latest medical technology and treatments. You can join his vast investment community and target the most profitable biotech stocks in Keith's Topline Trader advisory newsletter.
Energy Demand will Increase 58% Over the Next 25 Years
Trillions will be spent to secure the world's energy supply over the next two decades...and all sources are on the table. Oil, natural gas, solar, wind. There will be money made. Follow the money trail. Sign up for Energy and Capital now - it's entirely free!
We never spam! View our Privacy Policy
After getting your report, you'll begin receiving the Energy and Capital e-Letter, delivered to your inbox daily.