I can recall a few times in recent history when oil was a screaming buy for individual investors.
And I know some of the veteran readers in our investment community here probably remember the massive buying opportunity I told you about just a month after the U.S. locked everything down in March 2020.
Of course, it was more blatant back then, wasn't it? In April 2020, WTI prices turned negative and the market grossly overreacted — as it usually does.
Those of you who bought oil then would've seen your portfolio rocket higher over the last year and a half.
Don't believe me?
Well, let me show you these oil profits firsthand…
Buy Oil Now, Thank Me Later
We all know that oil stocks have been one of the best investments during the pandemic, and I would argue that most of that is due to the market's overreaction.
Just look at two premier players in the Permian Basin — Pioneer Natural Resources and Occidental Petroleum. The former is the region's largest producer, while the latter is the largest landholder.
Had you hopped in your 1981 DeLorean and went back to establish a position in these oil stocks in April 2020, you'd be singing a much different tune today.
Take a look for yourself at how these two oil stocks have performed since WTI prices briefly turned negative: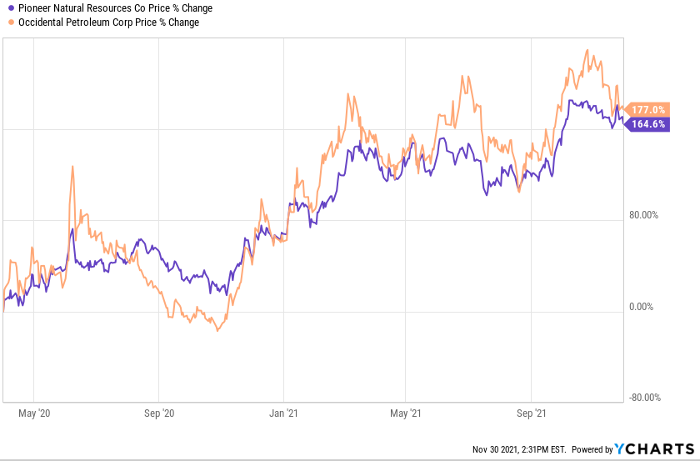 Now, in the market's defense, times were extraordinarily uncertain for investors.
Pandemic fever was in full swing, and the long-term demand destruction that COVID-19 would wreak upon the world was unknown.
And make no mistake, global oil demand took a steep hit early on in the pandemic.
Oh, but how times have changed, haven't they?
Let me give you the same tip I gave you back then…
Buy oil now.
You can thank me later.
The Best Free Investment You'll Ever Make
Our analysts have traveled the world over, dedicated to finding the best and most profitable investments in the global energy markets. All you have to do to join our Energy and Capital investment community is sign up for the daily newsletter below.
The Best Oil Profits Are Hiding in Plain Sight
Last week's doomsday headlines over the omicron COVID variant may have just opened up another massive buying opportunity.
Fear took hold in the market as headlines predicted this new doomsday strain would lead to more demand destruction, and the investment herd did what it normally does — run for the exits:
My colleagues are fond of pointing out when there is blood in the streets, and last Friday the market was flowing with crimson volatility.
However, oil's most recent run above $80 per barrel also led to another rather strong backlash.
President Biden's pleas for OPEC+ to boost supply fell on deaf ears and led him to tap into the SPR.
The phrase that comes instantly to mind is "too little, too late."
More importantly, OPEC+ is meeting this morning to discuss whether or not to enact the planned output increase of 400,000 barrels per day.
Between omicron and President Biden's recent SPR release, OPEC+ may have just gotten its excuse not to do so.
That means the market's knee-jerk reaction last Friday just opened up a huge window of opportunity.
And there's no place better to take advantage of cheap oil stocks than the Permian Basin.
Next week, I'm going to show you exactly why West Texas is where you want your portfolio to be.
Until next time,
Keith Kohl

Check us out on YouTube!
A true insider in the technology and energy markets, Keith's research has helped everyday investors capitalize from the rapid adoption of new technology trends and energy transitions. Keith connects with hundreds of thousands of readers as the Managing Editor of Energy & Capital, as well as the investment director of Angel Publishing's Energy Investor and Technology and Opportunity.
For nearly two decades, Keith has been providing in-depth coverage of the hottest investment trends before they go mainstream — from the shale oil and gas boom in the United States to the red-hot EV revolution currently underway. Keith and his readers have banked hundreds of winning trades on the 5G rollout and on key advancements in robotics and AI technology.
Keith's keen trading acumen and investment research also extend all the way into the complex biotech sector, where he and his readers take advantage of the newest and most groundbreaking medical therapies being developed by nearly 1,000 biotech companies. His network includes hundreds of experts, from M.D.s and Ph.D.s to lab scientists grinding out the latest medical technology and treatments. You can join his vast investment community and target the most profitable biotech stocks in Keith's Topline Trader advisory newsletter.