Last week, we talked a little bit about the mindset that U.S. oil companies have when it comes to investing in drilling. 
Remember, the companies that survived the price crash that took place in 2014 only did so because they became more fiscally conservative. 
Gone were the days of loading up mountains of debt to finance new drilling projects — it became the survival of the fittest, and, as I mentioned last week, more than 70 E&P companies in North America were forced into bankruptcy after prices came crashing down.
Today, the U.S. upstream sector has learned its lesson.
Make no mistake, dear reader, this is why you and I are being lied to anytime a politician — from either side of the aisle — tells us that U.S. oil production is going to suddenly surge to a pre-pandemic rate of 13 million barrels per day.
And yet that shouldn't stop you from being bullish on oil in 2023.
Nobody wants to hear that higher oil prices are ahead. 
Yes, crude prices are actually selling off as more fear invades the market over weaker economic outlooks. 
The cost of Western Texas Intermediate crude fell this week by nearly $10 per barrel before finally rebounding. What's interesting is that despite the "sell-off," WTI prices are currently trading just shy of $90 per barrel. 
For a little more perspective on that price, WTI is only about 7% higher than it was a year ago.
To be fair, that's not egregiously high considering that U.S. refiners are seeing strong demand for their petroleum products. 
Oil Outlook 2023: Oil's Path Forward
Based on current EIA projections, the average price of Brent crude is expected to decline in 2023 to $95.33 per barrel — representing a 6% year-over-year decrease.
However, the EIA isn't expecting a similar move from WTI. In fact, its Short-Term Energy Outlook report is forecasting WTI prices to slowly rise throughout 2023.
Take a look for yourself: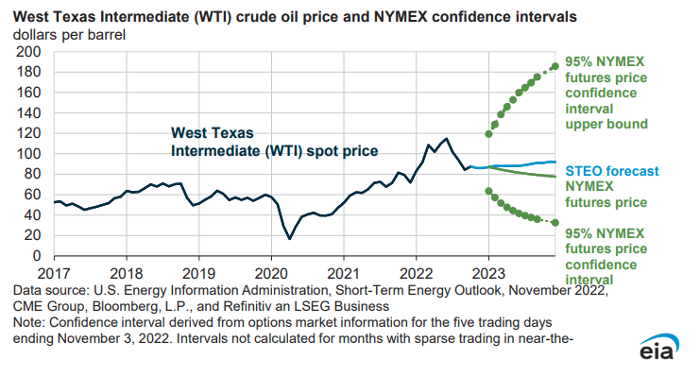 But let's take things just one step further here…
The Best Free Investment You'll Ever Make
Our analysts have traveled the world over, dedicated to finding the best and most profitable investments in the global energy markets. All you have to do to join our Energy and Capital investment community is sign up for the daily newsletter below.
You"ll also get our free report, 3 Blue Chip Dividend Stocks to Double sent straight to your inbox!
As you can see below, global supply/demand fundamentals will turn bullish for prices during the first quarter of 2023 as world consumption outpaces production:
Perhaps it's just the political talking points flooding the media, but there's no chance that U.S. drillers will push domestic production to 13 million barrels per day in this market environment. 
The EIA doesn't think we'll even get close to that number, projecting that U.S. oil production will average 12.31 million barrels per day in 2023. 
I think things could get much worse before they get better.
Close your eyes for a moment and just think of the situation the U.S. will be in when the SPR spigots snap shut. Last week, the sales totaled about 3.6 million barrels, and we've been dumping nearly 1 million barrels per day for almost nine months. 
During that period, we've cut our strategic reserves in half (mind you, this comes at a time of historic levels of geopolitical volatility, with Russia openly at war with Ukraine and China taking notes with an eye on Taiwan) and are exporting record amounts of oil and petroleum products to the world. 
Now open your eyes again and tell me crude oil prices will head lower in 2023. 
Fortunately, my readers have been able to take advantage of the tight market — and right now, they're poised to build upon their summer oil profits. 
Perhaps it's time you joined them.
Until next time,
Keith Kohl

Check us out on YouTube!
A true insider in the technology and energy markets, Keith's research has helped everyday investors capitalize from the rapid adoption of new technology trends and energy transitions. Keith connects with hundreds of thousands of readers as the Managing Editor of Energy & Capital, as well as the investment director of Angel Publishing's Energy Investor and Technology and Opportunity.
For nearly two decades, Keith has been providing in-depth coverage of the hottest investment trends before they go mainstream — from the shale oil and gas boom in the United States to the red-hot EV revolution currently underway. Keith and his readers have banked hundreds of winning trades on the 5G rollout and on key advancements in robotics and AI technology.
Keith's keen trading acumen and investment research also extend all the way into the complex biotech sector, where he and his readers take advantage of the newest and most groundbreaking medical therapies being developed by nearly 1,000 biotech companies. His network includes hundreds of experts, from M.D.s and Ph.D.s to lab scientists grinding out the latest medical technology and treatments. You can join his vast investment community and target the most profitable biotech stocks in Keith's Topline Trader advisory newsletter.