Warning to Electric Vehicle Investors: Big Oil Can't Be Stopped
Tesla Can't Stop Big Oil
Posted February 13, 2020
---
In a recent article entitled, "The Race for Arctic Oil Is Heating Up," the first line reads:
Despite climate concerns and environmentalist backlash against exploration for oil and gas in pristine sensitive regions of the Arctic, companies continue to explore for hydrocarbon resources in the Arctic Circle, in Russia and Norway in particular.
Whenever something starts with, "Despite climate concerns and environmental backlash," you know it can't be good.
And what makes this particularly frustrating is that in another 20 years, electric vehicles will dominate new car sales compared to internal combustion vehicles. It just doesn't make sense.
According to Bloomberg, electric vehicles will take up 57% of global passenger car sales by 2040, and electric buses are set to hold 81% of municipal bus sales by the same year.
We do know that the days of internal combustion are numbered. So why does the Big Oil machine find it necessary to continue to gut the planet in an effort to access more oil resources?
Well, it's simple: Despite a future that will not be kind to internal combustion, the demand for oil will continue for the foreseeable future. Even if more than half of all new car sales will be electric in 20 years, at least 40% will still be internal combustion.
Still, there's no denying that the transition away from internal combustion has begun.
The question, however, is: How will this transition away from internal combustion affect energy investors?
The Future of Transportation Has Arrived
We know that there's money to be made in electric vehicles.
You needn't look any further than the one stock that drives internal combustion loyalists and eager shorts absolutely crazy.
And while the future of the automobile industry cannot be determined by a single company, to deny that Tesla (NASDAQ: TSLA) has changed the game would be foolish.
Yes, if you went long on Tesla after it first went public, you're sitting on massive gains...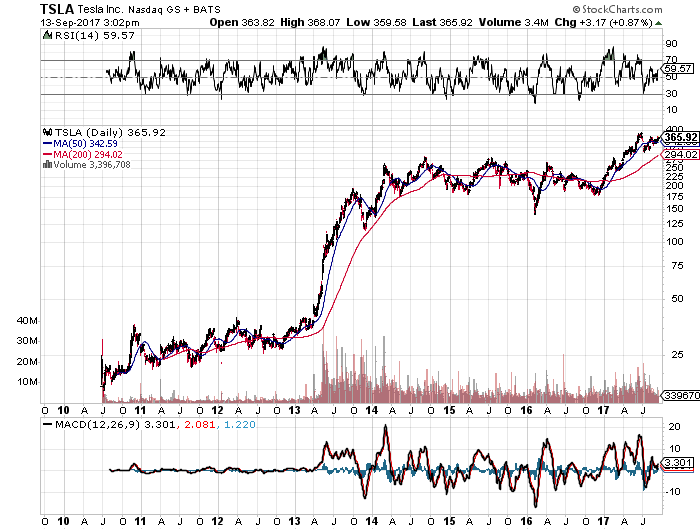 But outside of the stock market, what has Tesla really done?
Well, when Tesla first went public, the company and its CEO were viciously mocked.
Antiquated automobile CEOs, especially, launched insults every chance they had.
The Best Free Investment You''ll Ever Make
Our analysts have traveled the world over, dedicated to finding the best and most profitable investments in the global energy markets. All you have to do to join our Energy and Capital investment community is sign up for the daily newsletter below.
You''ll also get our free report, Investing in the Age of Clean Energy: Three Ways Every Investor can Boost their Clean Energy Portfolio by our resident expert Keith Kohl.
But here we are, 10 years later, and now every major automobile maker on the planet either has electric cars on the road or in development.
Today, the most popular electric cars on the road, aside from Tesla, include the Chevy Bolt, manufactured by GM (NYSE: GM), and the Nissan Leaf, manufactured by Nissan (OTCBB: NSANY).
And VW now plans to build one million electric vehicles by 2023, and Ford (NYSE: F) plans on having 16 fully electric vehicles on the road by 2022. That's just two years away.
Of course, these vehicles are primarily focused on the personal transportation market. There's also the commercial side, which has already seen Amazon (NASDAQ: AMZN) order 100,000 electric delivery vans from Rivian and UPS pre-order 125 Tesla electric semi-trucks as well as 10,000 electric delivery vans from a London-based technology company called Arrival, Ltd.
Other companies and organizations getting on board with electric vehicles include:
Unilever (NYSE: UL), which is transitioning its fleet of more than 11,000 vehicles to electric.
Airport Authority Hong Kong, which is transitioning its 3,300 vehicles to electric.
EDF Group, which is transitioning its fleet of 40,000 vehicles to electric.
Lloyds Banking Group, which is transitioning its 350,000 vehicles to electric.
Nippon Telegraph and Telephone Corporation, which is transitioning its fleet of 11,000 vehicles to electric.
Novo Nordisk (NYSE: NVO), which is transitioning its fleet of 8,000 vehicles to electric and plug-in hybrids.
Post CH (a subsidiary of Swiss Post), which is transitioning its fleet of 4,500 delivery vans and 180 service vehicles to electric. Worth noting is that Post CH already has a fleet of 6,000 electric vehicles in operation.
Schneider Electric, which is transitioning its fleet of 14,000 vehicles to electric.
Tokyo Electric Power (TEPCO), which is transitioning its fleet of 4,400 vehicles to electric.
Zenith, which is electrifying 48,000 vehicles procured on behalf of its customers and its own corporate fleet.
To be honest, when people say things like, "electric cars are too expensive," or "the ranges are too short," or "they'll never catch on," I just laugh.
The future of transportation is unfolding right before our eyes.
And if you don't see it, you're not paying attention.
But if you are paying attention, and you do see it, you would be wise to invest accordingly.
To a new way of life and a new generation of wealth...
Jeff Siegel



Check us out on YouTube!
@JeffSiegel on Twitter
Jeff is the founder and managing editor of Green Chip Stocks. For more on Jeff, go to his editor's page.
Energy Demand will Increase 58% Over the Next 25 Years
Trillions will be spent to secure the world's energy supply over the next two decades...and all sources are on the table. Oil, natural gas, solar, wind. There will be money made. Follow the money trail. Sign up for Energy and Capital now - it's entirely free!
We never spam! View our Privacy Policy
After getting your report, you'll begin receiving the Energy and Capital e-Letter, delivered to your inbox daily.