United Airlines (NASDAQ: UAL) is Going Electric
Posted March 23, 2023
---
I'm actually surprised it didn't get more attention in the mainstream media.  But it's definitely worth reporting on, so I'm going to share it with you today.
This week, United Airlines (NASDAQ: UAL) announced plans to launch its first air taxi route in Chicago, between O'Hare International Airport and Vertiport Chicago, which is North America's largest vertical aircraft takeoff and landing facility located in the Illinois Medical District near the Chicago Loop. 
With this air taxi, commuters can travel to and from ORD in just 10 minutes.  A similar trip by car can take in excess of an hour.
What's interesting about this, though, is that United partnered up with a company called Archer Aviation (NYSE: ACHR) to launch this new taxi route.
If you're unfamiliar, Archer develops, manufactures, and operates electric vertical takeoff and landing aircraft designed for short-distance air travel.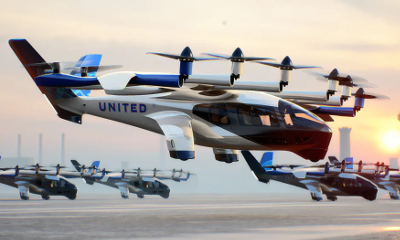 By the end of the decade, electric airplanes are expected to become as common as traditional aircraft we use today.  But these electric planes will be cheaper to operate than conventional planes used for short-distance flights.  After all, jet fuel isn't cheap, and it's not going to get cheaper.
Last year, United announced that it is seeking to use electric airplanes for all short-distance flights of less than 200 miles. 
Other airlines currently working to get electric plans into their fleets include JetBlue (NASDAQ: JBLU), American Airlines (NASDAQ: AAL), Delta (NYSE: DAL), and Air France (OTCBB: AFLYY).
You can read more about United Airlines' deal with Archer here: https://investors.archer.com/news/news-details/2023/United-Airlines-and-Archer-Announce-First-Commercial-Electric-Air-Taxi-Route-in-Chicago/default.aspx
And you can learn more about Archer Aviation here: https://www.archer.com/
Energy Demand will Increase 58% Over the Next 25 Years
Trillions will be spent to secure the world's energy supply over the next two decades...and all sources are on the table. Oil, natural gas, solar, wind. There will be money made. Follow the money trail. Sign up for Energy and Capital now - it's entirely free!
We never spam! View our Privacy Policy
After getting your report, you'll begin receiving the Energy and Capital e-Letter, delivered to your inbox daily.