Options Action Alert: "Be Fearful When Others Are Greedy"
Posted October 29, 2021
---
One of Warren Buffett's most famous investment sayings is "Be fearful when others are greedy. Be greedy when others are fearful."
And the proof is in the pudding. Based on this simple idea, the Oracle of Omaha has amassed a net worth of over $105 billion.
You don't have to like him. And you may think the near-mythical stories of him still driving a beat-up Volvo, ordering McDonald's every morning, and washing it all down with a Coke Classic are pure folly. But you can't argue with his success.
He's still Wall Street's lead dog. So when he goes on record and says "being greedy when others are fearful and being fearful when others are greedy" is what made him so rich, he's not blowing smoke.
You better consider making his philosophy your own.
Is the Oil Trade Getting Too Crowded?
In short, the answer is no. But it sure is getting closer to a reversal.
The energy sector boom, fueled by a major surge in oil, gas, coal, and related equities this year, is becoming a hugely popular trade with both retail and institutional investors.
The Best Free Investment You'll Ever Make
Our analysts have traveled the world over, dedicated to finding the best and most profitable investments in the global energy markets. All you have to do to join our Energy and Capital investment community is sign up for the daily newsletter below.
You''ll also get our free report, Options Trading Basics: The Ins and Outs of Options Trading for Beginners, sent straight to your inbox.
We've been able to capitalize on this run-up in sector value by cashing in on fast-moving call options on both Baker Hughes Co. (NYSE: BKR) and Chevron Corp. (NYSE: CVX). Both of those trades turned out great, giving my followers flash gains of 80% and 200%, respectively.
Based on my observations and research, I think we may see a brief pause in oil's surging price.
In the short term, I think we will see a brief cool-off period in which oil prices trend sideways and those who rode the boom for months take much-deserved profits off the table. In fact, the U.S. Energy Information Administration (EIA) reported this week that it expects Brent Crude prices to remain around $81 for the remainder of the year. This would support a brief slowdown for oil-related equities.
Long term, I think we could very well still reach $90-per-barrel prices. While the short-term outlook for oil is a bit more subdued, long term, the EIA still notes a significant discrepancy in available supply and surging demand.
The EIA notes:
This year, demand, both in the United States and globally, returned to 2019 levels faster than supply, reducing inventories and raising prices for crude oil and petroleum products. Crude oil, gasoline, and distillate prices were all higher on October 26, 2021, than they have been since February 2020...
It will take quite a while for oil to reach its new equilibrium price, and if demand continues on its current pace, that equilibrium price will be higher than it is now, meaning another leg up in oil's surge should further pad investors' pockets through Q1 2022.
So with all this in mind, I have an update and guidance on our open Chevron Corp. (NYSE: CVX) November 2021 $110 call(s) that expire on November 12, 2021.
Sell Your CVX Calls for Big Money — Or...
At the risk of letting time decay work against us and with the potential for a brief cooldown in the oil trade, let's be like Warren Buffett and be fearful when others are getting greedy.
We've plundered the oil sector for major profits for the entire year — let's not get too greedy.
Action to Take: "Sell to close" your position in the Chevron Corp. (NYSE: CVX) November 12, 2021, $110 call(s) for approximately a 102% gain.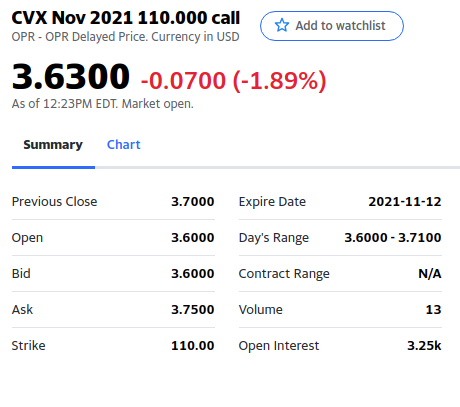 Now, if you want to Press Your Luck (one of my favorite old-school game shows), start screaming "Big money, big money, no whammy, no whammy, stop!" and try to ride this call a little deeper in the money. Just make sure you cash out ASAP if the underlying CVX stock drops below $112. Just remember, when you sell this option, you must "sell to close."
That being said, I think luck will be in your favor, and if you want to shoot for the stars on this trade, you may be able to squeeze out a bigger gain. But my advice is to lock in 102% today by selling to close this position.
To your wealth,

Sean McCloskey
Editor, Energy and Capital
@TheRL_McCloskey on Twitter
After spending 10 years in the consumer tech reporting and educational publishing industries, Sean has since redevoted himself to one of his original passions: identifying and cashing in on the most lucrative opportunities the market has to offer. As the former managing editor of multiple investment newsletters, he's covered virtually every sector of the market, ranging from energy and tech to gold and cannabis. Over the years, Sean has offered his followers the chance to score numerous triple-digit gains, and today he continues his mission to deliver followers the best chance to score big wins on Wall Street and beyond as an editor for Energy and Capital.
Energy Demand will Increase 58% Over the Next 25 Years
Trillions will be spent to secure the world's energy supply over the next two decades...and all sources are on the table. Oil, natural gas, solar, wind. There will be money made. Follow the money trail. Sign up for Energy and Capital now - it's entirely free!
We never spam! View our Privacy Policy
After getting your report, you'll begin receiving the Energy and Capital e-Letter, delivered to your inbox daily.