American Energy Dominance Starts Right Here
Posted January 9, 2019
---
Throughout all of the political bickering these days — and it has reached quite the crescendo after the recent midterm elections — we can't help but feel the despair of frustration.
Looking with an objective eye toward Capitol Hill, nobody can deny the divisiveness that has grinded our government to a screeching halt.
That's just the natural course of things when you have extremes on both sides ramming headfirst into each other at full charge.
There is no topic between the warring sides that is agreeable... or is there?
Turns out there IS something we can all agree on: American energy dominance.
Get used to that phrase because it's going to carry us well into the next decade.
American Oil: Rags to Riches
If I had told you 10 years ago that the U.S. would become a powerhouse in the global oil markets, you would've laughed me right out of the room.
In 2008, U.S. oil output averaged 5 million barrels per day, marking the lowest point in 61 years!
Granted, there were a few of us who saw the miracle turnaround that was about to happen as drillers in North Dakota started targeting the now-famous Bakken oil play.
Fast-forward to 2019, and the EIA now expects the U.S. to average 12.1 million barrels per day in oil production; some projections go as high as 12.6 million barrels per day.
But with great oil production comes greater responsibilities.
And the linchpin to the biggest oil boom in U.S. history comes down to just one thing: infrastructure.
You know it; I know it.
And Congress knows it.
So when the American Society of Civil Engineers graded the United States' infrastructure a D-, there was a legitimate cause for concern.
In the energy sector alone, more than 2.5 million miles of aging pipes crisscross the country and act as the lifeblood of our energy consumption.
You may hate the oil and natural gas industry, and you may loathe the hydraulic fracturing that was necessary to take our production of both these fuels to record levels, but nobody can deny how vital they are to our current economy.
Here's a sneak peak at just how important they are to America today: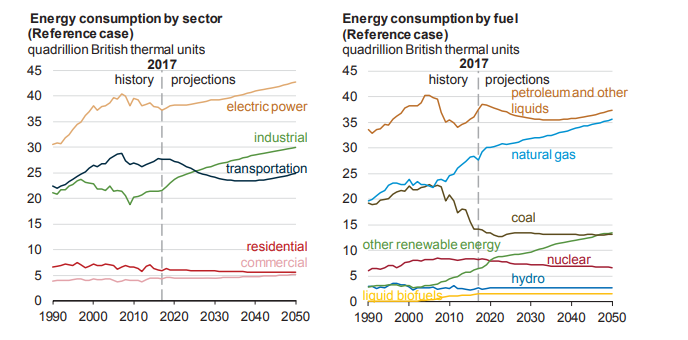 The Best Free Investment You''ll Ever Make
Our analysts have traveled the world over, dedicated to finding the best and most profitable investments in the global energy markets. All you have to do to join our Energy and Capital investment community is sign up for the daily newsletter below.
You'll also get our free report, "Three Oil ETFs to Buy and Hold Forever" by our resident expert Keith Kohl.
In 2017, these two energy sources accounted for 60% of our total energy consumption.
Let that sink for a minute.
Now consider the extraordinary effort it takes to keep our oil refineries operating at over 90% capacity.
There's one slight problem, which I'm pretty sure you've guessed by now.
The strong development of tight oil plays in the Lower 48 means the current status quo won't work.
In fact, a lack of pipeline capacity in the Permian Basin — one of the strongest oil-producing regions in the world — is taking its toll on exploration and production.
In other words, they're stretched thin in West Texas right now, with only some of that bottleneck being relieved as new pipelines come into service at the end of 2019.
If U.S. drillers plan on continuing their streak of breaking production records, they're going to need a way to get their product to market.
One recent study even concluded that approximately 3.6 million barrels per day of new crude oil and 7.7 million barrels per day of NGL transport capacity is needed to keep pace with growth.
More importantly, almost $800 billion in new oil and gas infrastructure must be spent between 2018 and 2035 — or roughly $44 billion per year!
Yet here's the thing: The government isn't sitting on its hands this time.
It's one of the rare times you'll see Republicans and Democrats locking their arms together to address a potential crisis.
That's not a typo, mind you.
The two sides have been quietly collaborating behind closed doors, and the lack of divisiveness is probably why the mainstream media completely missed the boat on this one.
And it's lining the pockets of individual investors like us with cold, hard cash.
Stay tuned.
Until next time,
Keith Kohl
@KeithKohl1 on Twitter
A true insider in the energy markets, Keith is one of few financial reporters to have visited the Alberta oil sands. His research has helped thousands of investors capitalize from the rapidly changing face of energy. Keith connects with hundreds of thousands of readers as the Managing Editor of Energy & Capital as well as Investment Director of Angel Publishing's Energy Investor. For years, Keith has been providing in-depth coverage of the Bakken, the Haynesville Shale, and the Marcellus natural gas formations — all ahead of the mainstream media. For more on Keith, go to his editor's page.
Energy Demand will Increase 58% Over the Next 25 Years
Trillions will be spent to secure the world's energy supply over the next two decades...and all sources are on the table. Oil, natural gas, solar, wind. There will be money made. Follow the money trail. Sign up for Energy and Capital now - it's entirely free!
We never spam! View our Privacy Policy
After getting your report, you'll begin receiving the Energy and Capital e-Letter, delivered to your inbox daily.