Check out this picture…
This is New Delhi just a few days ago.
The pollution there is so bad that schools have to shut down and non-essential construction was banned.
The city's air quality index hit 500, which is the highest the measurement goes and is 100 times the limit of what is considered to be "healthy."
It's become so bad that the government also implemented driving bans in an effort to reduce some of the pollution, although most of the toxic smog that now covers the city is the result of farms in neighboring states burning their fields, which is done to clear the fields before planting wheat crops. 
The Best Free Investment You'll Ever Make
Our analysts have traveled the world over, dedicated to finding the best and most profitable investments in the global energy markets. All you have to do to join our Energy and Capital investment community is sign up for the daily newsletter below.
You"ll also get our free report, 3 Blue Chip Dividend Stocks to Double sent straight to your inbox!
Still, as more and more Indians get access to cars and trucks, pollutants from those cars and trucks are exacerbating the pollution problem. But driving bans are not sustainable, as enforcement of such actions can significantly affect economic output. 
One way India is hoping to reduce traffic pollution is through government efforts to encourage domestic EV manufacturing and discounts for drivers. And it's been working.
India is now one of the fastest-growing EV markets in the world and, according to The Associated Press, now has millions of EV owners.
More than 90% of its 2.3 million electric vehicles are the cheaper and more popular two- or three-wheelers — that's motorbikes, scooters, and rickshaws — and over half of India's three-wheeler registrations in 2022 were electric.
And sales of electric passenger cars have more than doubled in the first nine months of 2023. 
This is partly the result of new, cheaper models entering the marketplace. 
Take the Tata Motors' Tiago compact EV, for instance, which accounted for nearly 40% of EV shipments this year. That car sells for $10,500.
Then there's the MG Comet mini car that retails for just $10,000.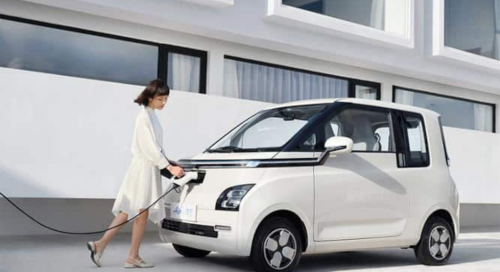 Of course, while these types of cars likely wouldn't sell too well in the U.S., they are instigating a rapid transition away from internal combustion in India. In fact, according to OMI, an India-based mobility think tank, India's EV sector is expected to deliver a 45.5% CAGR from 2022–2030. That's not trivial.
It should be noted, though, that India's EV infrastructure — particularly charging capacity — is not keeping pace with EV sales. This is resulting in an opportunity for new companies developing fleets of charging stations, but it's also resulting in increased interest in solar-powered electric cars. 
Earlier this year, India's first solar-powered car debuted at the Auto Expo in Greater Noida. It's manufactured by an EV startup called Vayve Mobility. Specifications on how much power the vehicle can get from its roof-mounted solar panels are still scarce, but Vayve Mobility isn't the only solar-car game in town.
In fact, there's a U.S.-based EV startup called Aptera Motors that also has solar integrated into its car, and that vehicle can travel up to 1,000 miles on a single charge with the solar panel integrated into the body of the car.
That particular solar-powered electric car will hit the roads next year.
What makes Aptera particularly interested from an investment point of view, however, is the company that's providing the solar panels for the vehicle.
You see, in order for a solar panel to provide enough power to move a 2,000-pound car, it needs to be specially designed. You can't just use a traditional solar panel like the kind you might find on the roof of a home.
These solar panels have to be durable and powerful enough to move an actual car. And as luck would have it, the only solar company producing these types of solar panels is publicly traded.
I've personally been benefiting from this stock for nearly a year now, and rest assured that as more and more carmakers begin to integrate solar panels into their vehicles, this one solar tech company is going to make a killing. Because, again, it's the only game in town.
Tesla, Toyota, GM, Ford, and Hyundai are already looking to feature integrated solar into their next generation EV models, and I have little doubt that they'll be using the same company Aptera is using to meet their solar-powered EV plans. Which is why I put together a short investment note on this company, how its solar panels work to actually move a car, and, of course, how you can get its name and ticker symbol.
To be sure, this is not a quick trade but a long-term investment that will allow you to take full advantage of the transition to solar-powered electric cars — which is now well underway. See why right here.
To a new way of life and a new generation of wealth…
Jeff Siegel



Check us out on YouTube!
@JeffSiegel on Twitter
Jeff is the founder and managing editor of Green Chip Stocks. For more on Jeff, go to his editor's page.
Want to hear more from Jeff? Sign up to receive emails directly from him ranging from market commentaries to opportunities that he has his eye on.