Investing in U.S. oil and gas stocks has been the best way to beat inflation and will continue to be in the future.
Here's why.
Take a look at this chart of natural gas: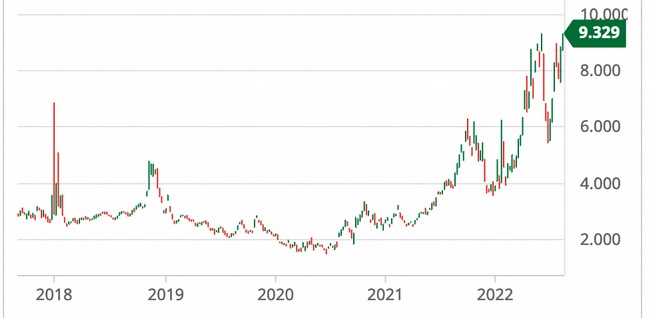 Natural gas is about to break out from its five-year high that it hit earlier this year.
Once it breaks out, I predict the price target for the Champagne of energy will reach about $14 per thousand cubic feet (Mcf).
How did I arrive at that price target?
From a technical analysis metric, I took the low from this year (around $4 per Mcf) and the high from this year (just over $9 per Mcf) and added the difference to the high, the difference being about $5.
That gives me a price target of around $14 per Mcf.
Any company that drills, produces, and ships natural gas is going to make a generational fortune.
Currently, the best-performing stock in my portfolio is a master limited partnership (MLP). Coincidentally enough, the name of the MLP is MPLX (NYSE: MPLX).
MPLX produces and ships oil and natural gas through thousands of miles of pipelines in the United States.
Here's a map:
I originally purchased 1,000 shares of MPLX in September 2020 for just above $17 a share. At the time, one share of MPLX was kicking off about an 18% dividend.
The Best Free Investment You"ll Ever Make
Our analysts have traveled the world over, dedicated to finding the best and most profitable investments in the global energy markets. All you have to do to join our Energy and Capital investment community is sign up for the daily newsletter below.
You"ll also get our free report, "Natural Gas Forecast 2020" by our resident expert Christian DeHaemer.
Today, the stock trades for nearly $33 per share with a dividend yield of 8.7%. I've been buying more.
That's how you not only beat inflation but make a nice, comfortable income as well.
But here's the thing. MPLX is going higher — much higher.
Let me explain…
The largest shale basin in the United States, what I've been referring to as the "Petroplex," is on track to hit a record 5.408 million barrels per day next month.
In its latest drilling report released on Monday, the EIA said total output among all the big shale basins in the country would increase to 9.049 million bpd in September, representing a 141,000-bpd boost in production.
American shale has not seen this level of activity since the start of the COVID-19 pandemic.
According to the EIA, the biggest increases in production outside of the Permian Basin will be seen in Texas' Eagle Ford, where production is expected to increase to 1.230 million bpd next month, representing a jump of 26,000 bpd.
Eagle Ford is followed by the Bakken, which straddles North Dakota and Montana, with a projected increase of 21,000 bpd.
Natural gas production is also on track to increase to a record high of nearly 94 billion cubic feet per day in September.
The Petroplex continues to outperform.
A lineup of pipeline contractors and developers have recently announced five natural gas pipeline projects that would increase the basin's capacity by 4.18 billion cubic feet per day in total over the next two years.
And here's the real juice: Europe is starving for American oil and natural gas — especially natural gas as it heads into winter.
U.S. oil and gas producers are Europe's lifeline, much like the Marshall Plan right after World War II.
There's been a minor pullback in these stocks, giving us another great opportunity to load up on more high-paying oil and gas dividend stocks.
We have a complete report on the situation that I think you might like. Take a few a minutes to check it out. It could be the best inflation-beating decision you make all year.
Profitably yours,
Brian Hicks

Check us out on YouTube!
Brian is a founding member and President of Angel Publishing. He writes about general investment strategies for Wealth Daily and Energy and Capital. For more on Brian, take a look at his editor's page.