Dear Reader,
Hamas, Russia… It's all you hear about in today's headlines, and yet the most important war the Western world is currently engaged in with the forces of evil is being lost, right under our noses. 
For the last 30 years, the single most powerful political entity on the planet has been waging a quiet battle against everything the free world holds dear, and because we've been distracted with things like the war on drugs, the war on terror, and our own political turmoils, this war has been completely overlooked by the media. 
Since the days of Deng Xiaoping, the Chinese Communist Party has quietly been building a monopoly on the world's most important element — lithium.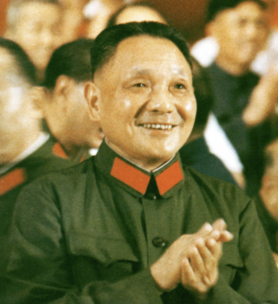 When it started this campaign, lithium-ion batteries were little more than a novelty of consumer electronics. 
Today, lithium-ion is the primary storage medium for everything from wireless devices to electric vehicles to renewable energy power generation. 
Global lithium-ion storage capacity currently stands at just shy of 3 terrawatts — enough to power 50 billion standard lightbulbs. 
By 2030, that number will more than double, to 6.5 terrawatts. 
The Best Free Investment You'll Ever Make
Our analysts have traveled the world over, dedicated to finding the best and most profitable investments in the global energy markets. All you have to do to join our Energy and Capital investment community is sign up for the daily newsletter below.
You"ll also get our free report, 3 Blue Chip Dividend Stocks to Double sent straight to your inbox!
The Chinese saw this coming. We clearly did not, and more than three decades after their quiet revolution began, we are decidedly on the losing end. 
China's Lithium Monopoly Didn't Happen by Accident
Today, China accounts for three-quarters of global lithium-ion battery production. It processes almost two-thirds of the lithium reserves in the world — giving it total dominance over a resource that will be even more important than oil was in the 20th century. 
Now, looking at these facts, one comes to the simple conclusion that we have a lot of catching up to do, but, sadly, it's not that simple. 
You see, at the moment, the U.S. owns less than 3% of global lithium reserves and processes even less — just 2%. 
Most of our lithium and most of our lithium-ion batteries come from China. Even Tesla, the world's biggest, most famous, most successful EV-maker, outsources nearly all of its battery production to the Chinese. 
Simply piling money and resources into the problem sounds like the way to go, but that too isn't as simple as it sounds. 
The average lithium mine takes no less than 10 years to go from discovery to production, and even an established resource with all infrastructure in place requires two years to roll out its first batch of usable product. 
Why 10 Years Is 10 Years Too Many for New Lithium Production
The reason behind this is that traditional lithium production takes that long simply to turn raw material into salable product. 
It is an inherently slow, inefficient, and environmentally taxing ordeal.
To catch the Chinese using the standard methods will likely take the same period of time the Chinese had to establish their global dominance in the first place — three decades or more. 
Which means that if we're to ever be competitive, we cannot rely on traditional processes. 
We need something revolutionary. Something that levels the playing field on a technological level. 
Thankfully, that something may have already arrived. 
Earlier this year, a small technology company operating out of Calgary, Canada, perfected a method for extracting lithium from oil and gas brine pits. 
You read that correctly… Brine pits, which hold wastewater used in fossil fuel production, may be the silver bullet we need to establish North America as the global lithium power. 
The process is efficient, cheap, and, most important of all, up to 10 times quicker than the traditional methods.
This Could Be the Most Revolutionary Lithium Play Trading on Today's Markets
The company behind all this is not a mining company or a resource company of any kind. It's a technology company, with a scalable, universally applicable extraction method that can be implemented in most any fossil fuel project.
This company is currently testing its technology on a 671-square-mile property in northern Alberta, but there is already interest from major energy companies looking to diversify their oil and gas operations into lithium. 
All told, this tech has the potential to unlock perhaps tens of millions of tons of lithium in North America alone — enough to shift the balance of power away from the Chinese forever. 
Best of all, it's so cheap that even at today's depressed lithium prices, it's still highly profitable.
The company behind all this is young, small, and completely focused on this one problem. It was founded by veterans of the petrochemical industry and is now well on the way toward spreading its knowledge and techniques industry-wide. 
For the investors out there, the news gets even better.
First of all, this company is already public and trades on two North American exchanges. 
Get a Piece of Tomorrow's North American Lithium Revolution
You can buy it today on any online brokerage platform. 
More importantly, however, this company is basically unknown to the retail investment community. 
Just like the first lithium revolution of the early '90s, this one is coming in under the radar, but it won't stay there. 
Not this time. 
There is simply too much demand and too much at stake, and this single technological breakthrough has the potential to change everything. 
Want to learn more? Check out my video presentation right here.
You'll get all the facts regarding the science, the tech, and the market. 
It takes only minutes, it requires no registration, and you'll walk away more informed than ever. 
Enter here for instant access.
Fortune favors the bold,
Alex Koyfman

Check us out on YouTube!
His flagship service, Microcap Insider, provides market-beating insights into some of the fastest moving, highest profit-potential companies available for public trading on the U.S. and Canadian exchanges. With more than 5 years of track record to back it up, Microcap Insider is the choice for the growth-minded investor. Alex contributes his thoughts and insights regularly to Energy and Capital. To learn more about Alex, click here.