Tesla (NASDAQ: TSLA) shorts are sitting pretty this year, with the stock showing year-to-date losses in excess of 60% and more than $800 billion in market capitalization being eliminated. 
Bad news for Tesla investors, but great news for those who have been betting against the electric carmaker.  And there are plenty of them.
In fact, ever since Tesla went public, the stock has been a target for short sellers who were either guided by the technicals or guided by their own weird obsession with hating electric cars.  Either way, until this year, those who were betting against Tesla not only lost their shirts, but also missed out on the opportunity to make a ton of cash. 
A one-time investment of $5,000 right after its IPO would've turned into more than $1 million.
Check it out …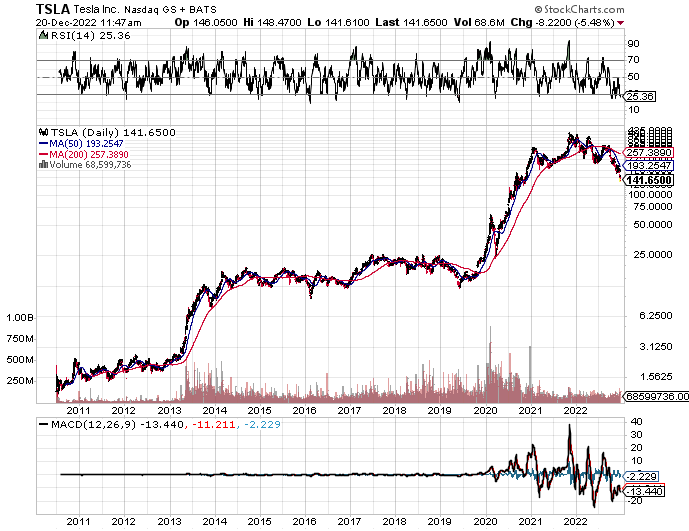 That's not trivial.
Of course, nothing lasts forever.  And no matter how successful Tesla has been over the past decade or so, no one should be surprised at this year's selloff.  Particularly given the overall state of the broader market, supply chain disruptions, global economic uncertainty, and of course, Elon Musk's quest to buy and fix Twitter, which many believe has led him to take his focus away from his duties at Tesla. 
I don't know if that's true or not, but the optics don't look good.
That being said, Tesla's recent slide in share price should not be misinterpreted as an indicator that the company is in trouble.  
The auto market as a whole has struggled this year.  In fact, in its most recent forecast, Cox Automotive expects to see 2022 sales hit a decade low, with full-year vehicle sales coming in at around 13.7 million units, or about 9% lower than 2021 sales.
And Cox's 2023 forecasts don't look much brighter.
Take a look …
#1: A Slow-Growing Economy Will Place Pressure on the Automotive Market.

While the risk of recession in 2023 remains, Cox Automotive expects the economy to see at least slowing or very weak growth as the Federal Reserve tightens monetary conditions and consumers continue to wrestle with high interest rates. A job-wrecking recession is a worst-case scenario for the auto industry, but hope for an economic soft landing remains. Either way, a sputtering economy will hold back the auto market in the year ahead.

#2 New-Vehicle Inventory Levels Will Continue to Increase.

New-vehicle production challenges are beginning to ebb, and inventory levels are measurably improving. While lingering supply chain and labor challenges will remain, and capacity will not return completely to pre-pandemic levels in the foreseeable future, stronger production levels and softer demand will lead to higher days' supply and, ultimately, more vehicle options for shoppers in 2023.

#3: Total Retail Vehicle Sales Will Fall in 2023, as New-Vehicle Sales Grow, Used Sales Decline.

With new-vehicle inventory levels improving as demand slows, Cox Automotive forecasts 3% year-over-year new-vehicle sales growth in 2023, with the market hitting 14.1 million units. Increasing fleet sales will help the absolute number. A lack of nearly new supply, declining affordability, and a shrinking pool of buyers will challenge the used-vehicle market. Overall retail sales will decline in 2023, adding competitive pressures to the market, especially in used. 
The only upside in this forecast was related to electric vehicles.
The battery-electric vehicle market continues to outpace the overall market in sales, and a new milestone is on the horizon: 1 million EVs sold in the U.S. in 2023. With expanded product availability coming and a fresh round of government-backed incentives to motivate buyers, the Cox Automotive team is forecasting continued good news in the electrified vehicle market. 
There's no doubt that investing in the auto market this coming year will definitely come with risk.  However, car manufacturers with solid electric car lineups will likely fare much better than those that don't.  These include, but are not limited to Tesla, GM (NYSE: GM), Ford (NYSE: F), Hyundai (OTCBB: HYMTF), and VW (OTCBB: VWAGY).
I'm also particularly bullish on the electric bus market, which is actually far more valuable than the electric passenger car market.  Here's more on that: https://www.energyandcapital.com/articles/did-opec-just-give-the-electric-bus-market-a-shot-of-steroids-/110552