Anti-EV zealots love to trivialize the impact electric vehicles will have on oil demand, often laughing off the idea that EVs could ever slow oil consumption in any significant way.
So it gives me great pleasure to share with you the latest Bloomberg update on something I've discussed in the past: peak demand for road fuel.
As reported by Bloomberg analyst David Doherty, a combination of EVs, fuel efficiency and shared mobility is affecting demand for road fuels.
So yes, it's not just electric vehicles, but EVs are a major contributor to the demand decline, which starts with peak demand in 2027, and then getting further exacerbated after 2030.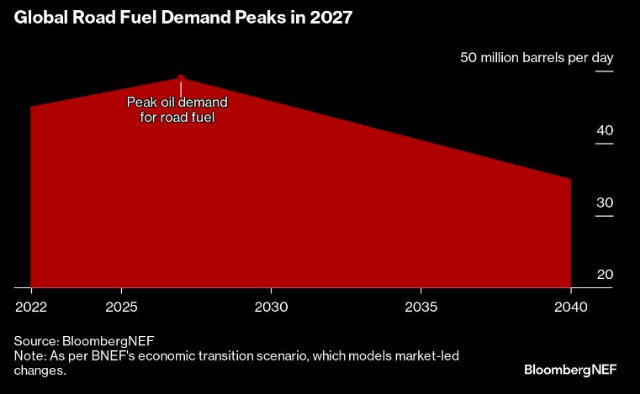 Assuming no further policy changes, and just looking at a market-led energy transition that's currently underway, Bloomberg sees oil consumption displaced by EVs increase to more than 20 million barrels per day by 2040.  Or just a little less than the U.S. consumes per day.
This is not trivial. 
In its most recent outlook, Bloomberg analysts wrote …
Demand for road fuels peaks at 49 million barrels per day in 2027. From then on, demand begins to decline structurally, reaching 35 million barrels per day by 2040.
Worth noting, 2027 is less than 4 years away.
Bloomberg analyst Vandana Gombar writes …
The demand for gasoline and diesel for road transport has likely already risen as far as it's going to go in the US and Europe, while demand in China is set to peak in 2024. Demand in other major consuming countries like India starts to decline later — in the 2030s.
Of course, this doesn't mean you can't still make money in the oil game.  You absolutely can.  
But as I've been arguing for years, in preparation for a world where fuel efficiency and vehicle electrification become commonplace, you must have some exposure to the companies and technologies that are leading the transition away from traditional internal combustion. 
One of the best ways to do that is through the mining plays that are providing the materials necessary to manufacture electric vehicle batteries. These inlcude, but are not limited to …
Lundin Mining (OTCBB: LUNMF)

Albemarle (NYSE: ALB)

SQM (NYSE: SQM)

Pilbara Minerals (OTCBB: PILBF)

Freeport-McMoRan (NYSE: FCX)

Glencore (OTCBB: GLNCY)

Southern Copper (NYSE: SCCO)

Rio Tinto (NYSE: RIO)

Newmont Corporation (NYSE: NEM)

BHP Group (NYSE: BHP)

Vale (NYSE: VALE)
While the transition away from internal combustion won't happen overnight, it will happen faster than most folks realize. So invest accordingly.