This Pot Stock Is Now Up 2,527%
Did You Get These 4 Stock Picks I Sent You?
Posted August 16, 2018
---
While the market was tanking yesterday, pot stocks were flying.
Canopy Growth Corporation (TSX: WEED), a stock I recommended back when it was trading for $1.60 a share, crushed earnings. The stock gained 31%, closing at $42.20.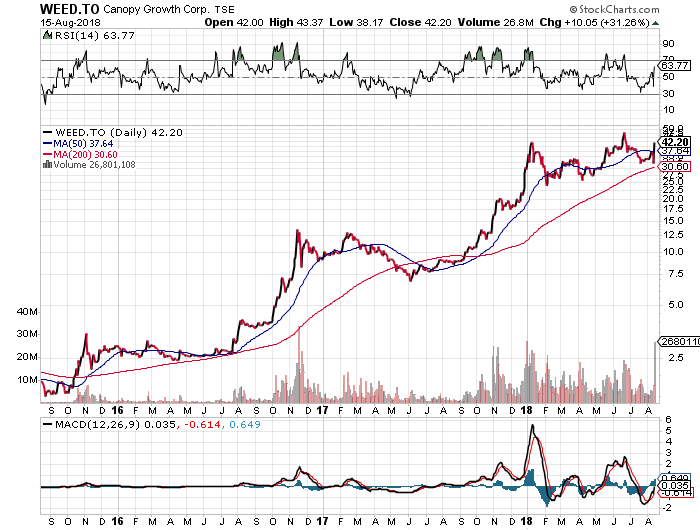 That means those who took my advice to buy this stock a few years back are now sitting on gains of 2,537.5%.
A simple $25,000 investment in WEED is now worth more than $650,000.
Double up, and you're looking at $1.3 million.
Think about that for a moment.
Turning $50K into $1.3 million in less than three years.
That, my friend, is how you make money in pot stocks.
Of course, Canopy Growth Corporation wasn't the only stock flying high yesterday.
Aurora Cannabis (TSX: ACB) ended the day with a 19.48% gain.
I recommended this stock to members of my Green Chip Stocks private investment group when it was trading at $3.03. After yesterday's performance, that puts us up 110.5%.
A $25,000 investment in ACB is now worth nearly $53,000.
Then there's OrganiGram Holdings (TSX-V: OGI), which I recommended when it was trading for just $0.40 a share. The stock tacked on another 10% yesterday, closing at $5.06. For us, that's a total gain of 1,165%.
A $25,000 investment in OGI is now worth more than $300,000.
The Best Free Investment You'll Ever Make
Our analysts have traveled the world over, dedicated to finding the best and most profitable investments in the global energy markets. All you have to do to join our Energy and Capital investment community is sign up for the daily newsletter below.
You'll also get our free report, "Six Pot Stocks to Own in 2020"
And we definitely can't leave out Aphria, Inc. (TSX: APH), which I recommended when it was trading for just $1.13 a share. Yesterday, it ended the day with a 20.53% gain, closing at $10.51 a share. That's a total gain of 830%.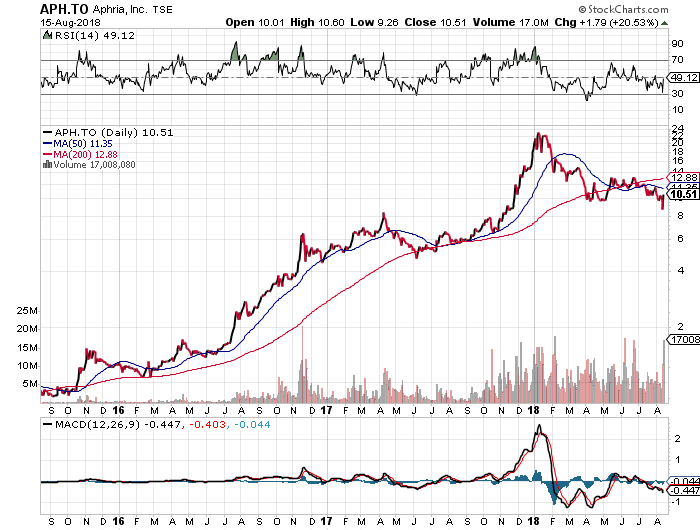 A $25,000 investment is now worth $225,000.
Now, let me ask you...
Have any of the stocks you've invested in over the past three years delivered gains like these?
Here's a recap, assuming a one-time investment of $25K:
Aurora Cannabis

— Total investment now worth

$53,000

Aphria, Inc.

— Total investment now worth

$225,000

OrganiGram Holdings

— Total investment now worth

$300,000

Canopy Growth Corporation

— Total investment now worth

$650,000
The Proof Is in the Numbers
I'm not writing this article today to chest-pound.
Instead, I'm using it to show you that if you know what you're doing, you can make an absolute fortune in pot stocks.
My portfolio is proof of this.
And the best part is we're just getting started.
The truth is, while we've had one hell of a run, there are literally dozens more pot stocks that are primed to deliver the same types of gains we've pulled in from the stocks I mentioned above.
And if you don't believe me, just look at the data for yourself.
I have it all laid out in this pot stock tutorial, which explains how I've been able to pick the most profitable pot stocks and, more importantly, which stocks are next to deliver those triple- and quadruple-digit gains.
Even if you're not interested in pot stocks, you should still check out this tutorial, as the strategy laid out in it can actually work for any sector, not just cannabis. In fact, I've personally used this strategy to make a ton of money in biotech, energy, and mining, too.
And here's the best part...
It's so ridiculously easy, you'd have to be the dumbest person on the planet to not make a ton of cash by applying this strategy to your own portfolio right now.
You can even review this strategy for yourself by clicking this link.
To a new way of life and a new generation of wealth...
Jeff Siegel


@JeffSiegel on Twitter
Jeff is the founder and managing editor of Green Chip Stocks, a private investment community that capitalizes on opportunities in alternative energy, organic food markets, legal cannabis, and socially responsible investing. He has been a featured guest on Fox, CNBC, and Bloomberg Asia, and is the author of the best-selling book, Investing in Renewable Energy: Making Money on Green Chip Stocks. For more on Jeff, go to his editor's page.
Energy Demand will Increase 58% Over the Next 25 Years
Trillions will be spent to secure the world's energy supply over the next two decades...and all sources are on the table. Oil, natural gas, solar, wind. There will be money made. Follow the money trail. Sign up for Energy and Capital now - it's entirely free!
We never spam! View our Privacy Policy
After getting your report, you'll begin receiving the Energy and Capital e-Letter, delivered to your inbox daily.