Silver: Beyond Gold's Shadow
Written by Luke Burgess
Posted May 17, 2023
---
Silver is most often seen as secondary to gold; some call it "gold's little sister." But investors shouldn't overlook silver's value as a powerful financial tool.
Silver nugget
Similar to gold, silver offers a means of diversifying your portfolio and mitigating risks during market volatility and inflation.
During the 1970s when inflation was soaring, the price of silver experienced a substantial surge. Similarly, in the aftermath of the 2008 financial crisis, as central banks around the world implemented quantitative easing measures, silver prices again climbed, safeguarding investors' purchasing power.
Silver's historical advantage as a hedge against inflation makes it an appealing long-term strategy for preserving wealth, but it's much more than just a wealth hedge.
Silver's diverse industrial applications also make it a critical material for multiple sectors. In fact, about half of all silver demand comes from industrial applications.
Meanwhile, only about 10% of the world's gold gets used for industrial applications.
With exceptional thermal and electrical conductivity, reflectivity, and antibacterial properties, silver plays an indispensable role in crucial industries like electronics, solar energy, automotive manufacturing, and medical devices.
And as technology advances, the demand for silver in these industries is projected to further increase in the coming years. Coupled with silver's historical track record as a hedge against inflation, the metal is quickly regaining favor from investors.
For investors looking for direct exposure to silver, there are a few options.
One option is acquiring physical silver bullion, such as coins or bars. Bullion provides tangible ownership and the potential for long-term appreciation. However, ensuring secure storage, either personally or through reputable vaulting services, is crucial for preserving the value and liquidity of bullion.
Alternatively, exchange-traded funds (ETFs) offer a convenient and accessible route for silver investment.
Silver ETFs track the price performance of silver and provide fractional ownership without the need for physical storage. These funds trade on major exchanges, making them easily accessible for investors seeking exposure to the silver market. However, there are also fees to consider.
Among the most popular options is investing in silver mining companies.
The Best Free Investment You'll Ever Make
Our analysts have traveled the world over, dedicated to finding the best and most profitable investments in the global energy markets. All you have to do to join our Energy and Capital investment community is sign up for the daily newsletter below.
You''ll also get our free report, 3 Blue Chip Dividend Stocks to Double by our resident expert Christian DeHaemer.
This approach allows investors to benefit from potential price appreciation while leveraging the operational expertise and growth prospects of established industry players.
Well-managed mining companies not only provide exposure to the silver market but also present opportunities for additional revenue streams through the production of silver and other valuable metals.
Three notable silver mining companies in the global market include Fresnillo PLC, Pan American Silver Corp., and Hochschild Mining PLC.
Fresnillo PLC (LSE: FRES)

Fresnillo is the world's largest primary silver producer. The company operates several mines and development projects, primarily in Mexico, including its flagship Fresnillo mine, which is one of the largest and oldest silver mines globally.
In addition to the flagship mine, the company also operates the Saucito, Ciénega, Herradura, and San Julián mines, collectively contributing to its substantial silver production.
Furthermore, Fresnillo is not solely focused on silver; it is also a major producer of gold, lead, and zinc, ensuring a diversified mining portfolio.
Pan American Silver Corp. (TSX: PAAS)

Pan American Silver boasts a strong position in the global silver market, with operations spanning across North and South America. The company's portfolio includes a diverse range of mines, exploration projects, and joint ventures, showcasing its commitment to long-term growth and value creation.
Pan American Silver's primary silver mines, including La Colorada and Dolores in Mexico and Huaron and Morococha in Peru, contribute significantly to its production output.
In addition to its silver operations, the company is also engaged in gold mining, providing further diversification to its revenue streams. Through ongoing exploration and development initiatives, Pan American Silver aims to uncover new mineral resources and optimize its operational efficiency, ensuring a bright and sustainable future in the silver mining industry.
Hecla Mining (NYSE: HL)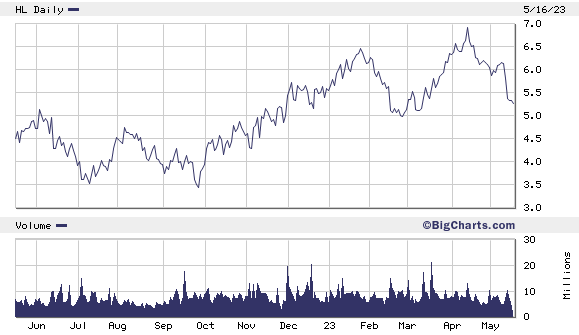 Hecla Mining Company is a renowned name in the mining industry, specializing in the extraction and production of silver as well as gold, lead, and zinc.
With a rich history that spans over a century, Hecla has established itself as a leading player in the sector. The company operates multiple mines across North America, including the Greens Creek mine in Alaska, the Lucky Friday mine in Idaho, and the Casa Berardi mine in Quebec, Canada.
Apart from its inflation-hedging properties, silver plays a vital role in numerous sectors. As the demand for silver continues to grow, companies like Fresnillo, Pan American Silver, and Hecla stand at the forefront as the world's largest silver producers. Leveraging their expertise, sustainable practices, and diversified portfolios, these industry giants effectively meet global demand and make significant contributions to the economy.
Investors and stakeholders will closely monitor these industry leaders as they continue to shape the future of the global silver industry, making it a compelling space for long-term investments.
Until next time,



Luke Burgess
As an editor at Energy and Capital, Luke's analysis and market research reach hundreds of thousands of investors every day. Luke is also a contributing editor of Angel Publishing's Bull and Bust Report newsletter. There, he helps investors in leveraging the future supply-demand imbalance that he believes could be key to a cyclical upswing in the hard asset markets. For more on Luke, go to his editor's page.
Energy Demand will Increase 58% Over the Next 25 Years
Trillions will be spent to secure the world's energy supply over the next two decades...and all sources are on the table. Oil, natural gas, solar, wind. There will be money made. Follow the money trail. Sign up for Energy and Capital now - it's entirely free!
We never spam! View our Privacy Policy
After getting your report, you'll begin receiving the Energy and Capital e-Letter, delivered to your inbox daily.