Ray Dalio's Mad World, Broken System, and Paradigm Shift
Written by Luke Burgess
Posted November 8, 2019
---
It's crazy out there.
And what's truly frightening: We all know it's crazy out there, but few people seem to be doing anything about it.
Earlier this week, billionaire hedge fund manager Ray Dalio published a blog where he argues an excess of free money, enormous government deficits, and excessive social liabilities have set the world up for a "big paradigm shift." Dalio concludes, "The system of making capitalism work well for most people is broken." (I put a link to that blog at the end of this article.)
Adding to Dalio's economic concerns are widening political and social rifts. Every day — almost every hour now — brings a new political scandal, controversy, or absurdity.
This week a woman in Virginia won a seat on a county board of supervisors because she gave the president's motorcade the finger.
Let me repeat that: Voters in Virginia have qualified this woman to hold political office simply because she flipped off the president. That's where we are politically right now. I don't care which side of politics you take — that's absurd and dangerous.
Some people have become so angry with the status quo that they'd rather see the entire country burn to the ground than allow it to continue. And that's not hyperbole. Take a look at a Twitter message I was sent yesterday:
Mounting political, social, and economic problems seem to be reaching an inflection point. And it would be personally irresponsible for you not to prepare yourself. So how do you do that?
Most importantly, it's time again to own gold.
Over the past several years, gold has lost a lot of its appeal as a safe haven asset. Ten years ago gold was quite reactive to political, social, and economic turmoil. Today, that's not so much the case.
However, over the past year or so, gold has begun to regain some of its safe haven appeal. And this is reflected in rising prices. Over the past 12 months, the price of gold has increased almost 20%. And I believe continued political, social, and economic turmoil will work to move prices higher from here.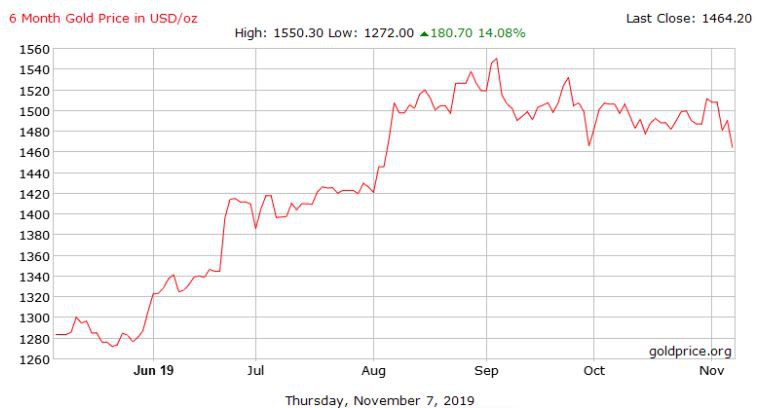 This week was the worst week for gold in about three years, with prices falling below $1,500 an ounce to around $1,460. I think this is a good buying opportunity and that wise investors should stock up.
The Best Free Investment You'll Ever Make
Our analysts have traveled the world over, dedicated to finding the best and most profitable investments in the global energy markets. All you have to do to join our Energy and Capital investment community is sign up for the daily newsletter below.
You'll also get our free report, How You Can Get Paid Twice on Gold Dividends
If you're a longtime Energy and Capital reader, you know it's not very often that I recommend buying physical gold bullion. Instead, I generally recommend buying a mixture of physical bullion and gold mining stocks. But considering all that's happening, I think it's borderline financially irresponsible not to hold physical gold as a safe haven asset.
The best physical gold to own remains the same: American Gold Eagles.
The American Gold Eagle is one of the most popular gold coins on the market. It's the official gold bullion coin of the United States, offered in 1/10-ounce, 1/4-ounce, 1/2-ounce, and one-ounce denominations and carrying legal tender values of $5, $10, $25, and $50, respectively.
The American Gold Eagle is minted in .9167 fine gold (22 karat), which is important to note because most other bullion coins are .9999 fine. The remaining 8.32% is made up of silver and copper, but a one-ounce AGE still contains one full ounce of gold.
The premiums for the American Gold Eagle are reasonable compared to the alternatives. When buying, expect to pay a premium of about 5% over gold spot prices.
The Canadian Gold Maple Leaf is another good option. It's the official bullion gold coin of Canada and produced by the Royal Canadian Mint. Like the AGE, Gold Maple Leafs are offered in 1⁄20-ounce, 1⁄10-ounce, 1⁄4-ounce, 1⁄2-ounce, and one-ounce denominations and carry legal tender values of $1, $5, $10, $20, and $50, respectively. Unlike the AGE, however, the Canadian Gold Maple Leaf is minted in .9999 fineness and is made from gold mined exclusively from gold sources in Canada.
Also of note is that when buying gold bullion, you'll probably run across a product title or a dealer who will call them "uncirculated." This is simply a term used in numismatic grading. Typically, all American Gold Eagles and Gold Maple Leaf are going to be uncirculated.
The safest way to buy gold bullion immediately remains through one of the U.S. Mint's authorized dealers. The Mint's dealer locator can be found here.
If you don't mind waiting or paying shipping costs, two of the most well-known online bullion dealers are apmex.com and jmbullion.com.
Physical investment-grade gold bullion is in much shorter supply than most people consider. If you took all the gold in the world and divided it equally among all the people of the world, everyone would end up with less than one ounce per person. I strongly recommend buying much more than that to hedge political, social, and economic turmoil.
Here's the link to Dalio's blog post. I urge you to read it and go buy some physical gold.
Until next time,



Luke Burgess
As an editor at Energy and Capital, Luke's analysis and market research reach hundreds of thousands of investors every day. Luke is also a contributing editor of Angel Publishing's Bull and Bust Report newsletter. There, he helps investors in leveraging the future supply-demand imbalance that he believes could be key to a cyclical upswing in the hard asset markets. For more on Luke, go to his editor's page.
Energy Demand will Increase 58% Over the Next 25 Years
Trillions will be spent to secure the world's energy supply over the next two decades...and all sources are on the table. Oil, natural gas, solar, wind. There will be money made. Follow the money trail. Sign up for Energy and Capital now - it's entirely free!
We never spam! View our Privacy Policy
After getting your report, you'll begin receiving the Energy and Capital e-Letter, delivered to your inbox daily.