Bold Prediction: Bitcoin to $125,000
Written by Sean McCloskey
Posted May 7, 2021
---
When Bitcoin debuted on the market on July 10, 2010, at $0.0008, it seemed little more than a novelty for tech enthusiasts.
The value of a Bitcoin was a small fraction of a cent, and few people had any clue what this new thing called a cryptocurrency was all about. And even fewer folks appreciated the underlying blockchain technology or the decentralized financial environment it created.
But the idea spread — and kept spreading. Bitcoin excited a lot of people because it gave them a way to do this thing called "money" in such a way that didn't involve central bankers, physical access to cash, or precious metals like gold and silver.
Regular money like dollars and Euros are created out of "thin air," so to speak. The central banks do this, and it's unpredictable when or how much they will do it. In the old days, money creation was largely tied to a gold standard. Today, central banks do most of this money creation based on interest rates and inflation, with the U.S. dollar serving as an independent monetary device no longer tethered to gold but still centrally controlled.
There is no central anything with Bitcoin and other cryptocurrencies. The system is distributed and transparent. And there is no unpredictability with creating new units of value either.
That's one of the selling points for cryptocurrencies. They are inherently better stores of value than the depreciating currencies we're accustomed to using. The more money you print, the less it's worth, and the U.S. is printing a ton of cash.
You Can't Ignore This Incredible Growth
Sure, you still can't walk into most stores and use crypto like cash. Since it's a store of wealth, you shouldn't anyway.
And in the very early innings, crypto got a bad rap because it was associated with illegal activity. And some people — particularly folks on Wall Street — called it a pyramid scheme.
At times, even I have voiced concerns about the crypto-craze. In the beginning, there was little-to-no data to work with, only faith in the idea. And trading on faith is not advisable. But now, in 2021, we know what Bitcoin is — a fantastic store of wealth akin to gold but better because it still has a lot more room to grow in value.
Source: Coindesk.com
I look at the Bitcoin in my own account like a high-yield savings account because it is the best option to grow my wealth while safely storing it.
The simple reason is that there is a specific finite supply of bitcoins, much like there's a finite supply of gold, unlike the infinite supply of paper dollars the Fed prints at will.
To be exact, there will only ever be 21 million bitcoins in circulation ever. Right now, there are only about 3 million unmined bitcoins left. There's a cap on supply.
Conversely, there is no cap on demand, and demand is surging week to week, month to month. Most experts and I agree this demand surge will continue year after year for decades.
When Bitcoin (BTC) soars to its next level of incredible highs around $125,000 — which I believe without a doubt it will — a lot of people are going to make A LOT of money.
A report from CNBC the other week noted:
Anthony Pompliano, co-founder and partner at Morgan Creek Digital Assets, said Bitcoin could hit $500,000 by the end of the decade. It could eventually reach $1 million per coin, he added, without giving a timeline.
The Best Free Investment You'll Ever Make
Our analysts have traveled the world over, dedicated to finding the best and most profitable investments in the global energy markets. All you have to do to join our Energy and Capital investment community is sign up for the daily newsletter below.
You''ll also get our free report, 5 Easy Picks For The FinTech Revolution by our resident expert Christian DeHaemer.
Your Next Big Crypto Opportunity Is...
And it's not just BTC. I think this rising tide will lift many ships. We've seen it before, now that we're almost a decade into a world where cryptocurrencies exist.
In February 2017, the first BTC boom began as the value crested $1,000 for the first time. Over the next 12 months, BTC soared 900%, hitting the $10,000 mark in December of that year.
Other cryptos saw incredible gains that year too as the fervor boiled over into other opportunities in the space.
For example, on Friday, March 17, 2017, shortly after BTC started to spike, a tiny cryptocurrency called EnergyCoin was trading at a little over one-third of a penny. The exact price was $0.003578.
Then a powerful super-spike struck and over a 99-day period, EnergyCoin skyrocketed to $0.34. That's a whopping 9,566% gain — enough to turn a $1,000 investment into a staggering $95,660.
Now, let's say you were very bullish on EnergyCoin and put down $5,000. You could have collected $478,300. That's over $4,800 a day for 99 days straight. Double that starting stake to $10,000, and you're looking at close to a cool million from a single trade.
Looking at the crypto market today, we're seeing another cryptocurrency, Ethereum — aka Ether (ETH) — reach incredible new highs just as BTC did about a month ago.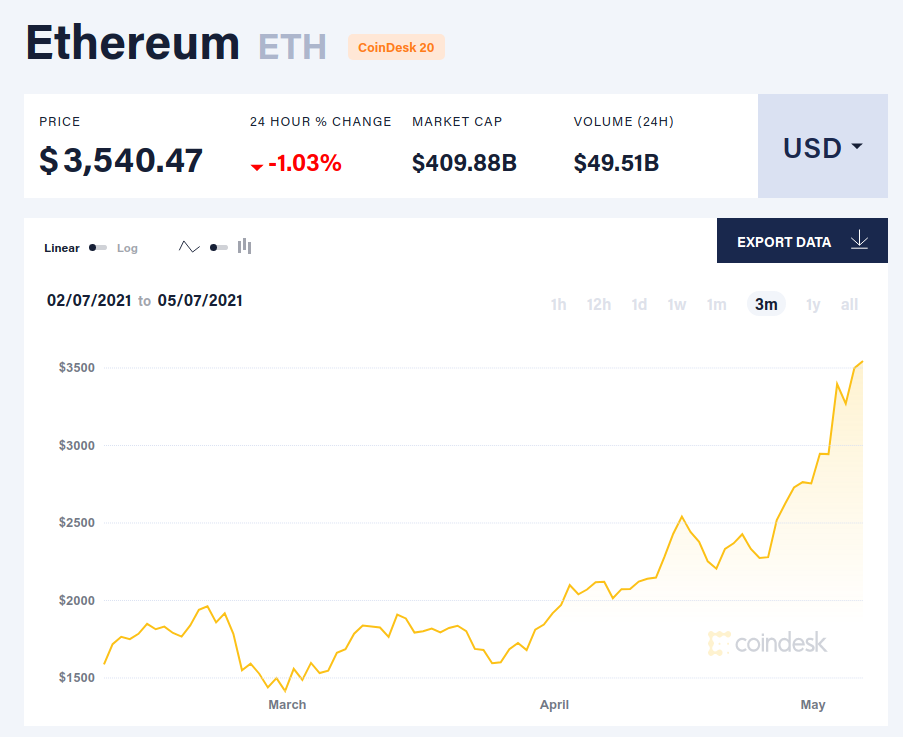 Source: Coindesk.com
And while ETH and BTC run on different blockchains and therefore ultimately may be used for different purposes, if you want to be rich from minimal investments 10 years down the road, crypto is a must for your portfolio.
Now, as for your next big crypto opportunity...
I was definitely one of the early bulls on crypto. But I'm not the only one. My colleague and top-notch market analyst Christian DeHaemer scored his followers a 2,528% payday in 2018 during BTC's first surge. He also booked his followers a 1,000% gain with Ether in the same year.
Now he has his sights on another cryptocurrency set to blast off like the others I've shown you today. Click here to learn more.
To your wealth,

Sean McCloskey
Editor, Energy and Capital
@TheRL_McCloskey on Twitter
After spending 10 years in the consumer tech reporting and educational publishing industries, Sean has since redevoted himself to one of his original passions: identifying and cashing in on the most lucrative opportunities the market has to offer. As the former managing editor of multiple investment newsletters, he's covered virtually every sector of the market, ranging from energy and tech to gold and cannabis. Over the years, Sean has offered his followers the chance to score numerous triple-digit gains, and today he continues his mission to deliver followers the best chance to score big wins on Wall Street and beyond as an editor for Energy and Capital.
Energy Demand will Increase 58% Over the Next 25 Years
Trillions will be spent to secure the world's energy supply over the next two decades...and all sources are on the table. Oil, natural gas, solar, wind. There will be money made. Follow the money trail. Sign up for Energy and Capital now - it's entirely free!
We never spam! View our Privacy Policy
After getting your report, you'll begin receiving the Energy and Capital e-Letter, delivered to your inbox daily.