Norway has become a sort of case study in electric vehicle adoption.
Thanks to some of the most generous incentives for electric vehicle sales in the world, the Land of the Midnight Sun is now being called the Land of the Electric Cars.  And this isn't hyperbole.
Last month, electric car sales in Norway represented 93% of total new car sales
To put that in perspective, it'll be another 7 years before electric car sales represent 50% of all new car sales in the U.S.
Of course, the U.S. is much bigger and far more car-centric than Norway.  But what's happening in Norway does provide us with a glimpse into the future.
While the U.S. doesn't incentivize electric car purchases as aggressively as Norway, electric car sales growth in the U.S. has not been unimpressive. 
According to analysts at Cox Automotive, total EV sales in Q3 exceeded 313,000, representing a 49.8% increase from the same period one year ago. This also represents 7.9% of total vehicle sales.  In Q3, 2020, (just three years ago), EVs only represented 2.2% of new car sales.
That's a CAGR of 53.1%, which is not trivial. 
But the interesting thing about Norway is the data we're getting on how rapid EV adoption rates are affecting sales of road fuels. 
According to Norway's statistics agency, SSB, motor fuel sales declined 9% year-over-year in September.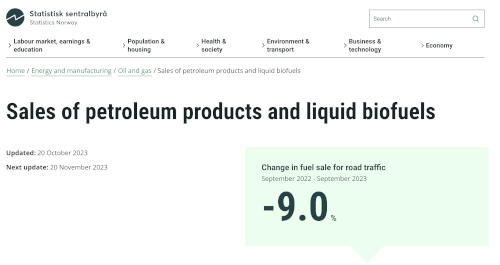 This decline in motor fuel sales will continue as the phase out of internal combustion vehicles continues. 
Such a significant decline hasn't been seen anywhere else yet, but it's coming. 
According to data from Bloomberg, global oil demand for road transport will peak in 2027.  And as a result of the rapid proliferation of EVs, about 1.5 million barrels of oil per day are already being displaced.  
Not a massive amount of oil in the grand scheme of things, but significant enough to indicate the effect EV sales are having on oil demand.  And that will continue. 
As a side note: gasoline demand in China is set to peak this year.
There are still plenty of folks claiming that EVs will not replace internal combustion, and that they will never amount to much in terms of market share.  But to quote the famed economist and business theorist W. Edwards Deming, "In God we trust, all others bring data."
And the data are clear: the transition from internal combustion to vehicle electrification is well underway, and we would be wise to invest accordingly. 
I'm personally bullish on these stocks that are actively capitalizing on the electric vehicle revolution …
Stellantis (NYSE: STLA)

Lundin Mining (OTCBB: LUNMF)

Albemarle (NYSE: ALB)

Tesla (NASDAQ: TSLA)

Southern Copper Corporation (NYSE: SCCO)