Well, the numbers are in, and they're pretty damn impressive.
In June, 2023, electric cars sales in Norway exceeded 90% of total new car sales.
According to data from the Norwegian Road Federation, 14,155 new electric cars were registered in June, coming in at about 90.9% of the total new car sales.
Tesla continues to be the best-selling car in the country.  Not the best-selling electric car, but the best selling car overall, with Volkswagen creeping up and taking the #2 spot. 
Of course, to clarify, the only reason Norway has witnessed such a huge increase in electric vehicle ownership is because the country has long provided some very generous incentives for new car buyers who decide to eschew internal combustion and embrace the battery.
Here's a list of some of the more attractive incentives …
No purchase / import tax on EVs from 1990-2022

Exemption from a 25% VAT on purchases from 2001 to 2022.  In 2023, a 25% VAT returned, but only on EVs with purchase prices in excess of $46,000, which really isn't that much for an electric car.

No annual road tax from 1996 to 2021

No charges on toll roads from1997 to 2017

Free municipal parking from 1999 to 2017

Exemption from 25% VAT on leasing
It's interesting to note that some of these incentives have been gone for a few years now, yet aside from a small dip at the end of 2022, EV sales in Norway continue to climb. 
At the end of 2022, 79.3% of all new cars sold in Norway were electric.
By the end of 2023, that number is expected to exceed 90%, which gets Norway closer to its goal of 100% electric vehicle sales by 2025.
Eventually, spotting an internal combustion vehicle in Norway will be as normal as spotting a 1980 Chevy Chevette on the I-95 Corridor in the U.S.
Of course, what's truly interesting about EV growth in Norway is that EVs began to exceed sales of internal combustion vehicles back in 2019.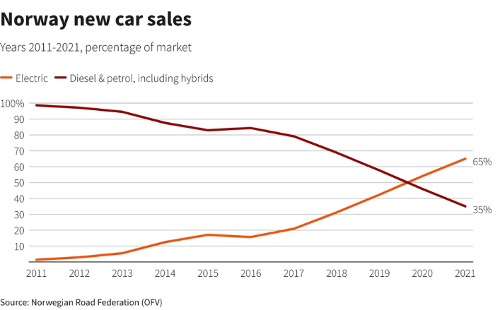 This, dear reader, is a peek into the future of transportation – on a global scale.
While few countries offer the same financial incentives as Norway, most countries do have some sort of EV incentives in place, including, but not limited to China, France, the U.S. and India.  And one day, those incentives will also disappear alongside internal combustion's long-held market share. 
According to data from Morgan Stanley, by 2050, electric vehicles will account for 90% of global auto sales.
For investors looking to make a few bucks in the transportation sector, the money will always be made where there is growth, not stagnation.  EVs = growth.  Internal combustion = stagnation.
Invest accordingly.