In Southern California, there's a new housing development called Veterans Village, which will provide affordable housing for homeless veterans.
An honorable endeavor, to be sure.
Of course, home construction in Southern California isn't cheap.  It isn't cheap, anywhere, to be honest.  But thanks to new technological developments in home building, we are now at a point where we can provide more affordable housing for those who need it. 
Certainly this is the case with Veterans Village, where a company called Azure Printed Homes is donating 26, 2-bedroom homes.  
If you're unfamiliar, Azure is a young startup that has created a way to 3D print homes using recycled materials, and do so at a cost that is far cheaper than conventional home building.  They're also quite aesthetically pleasing …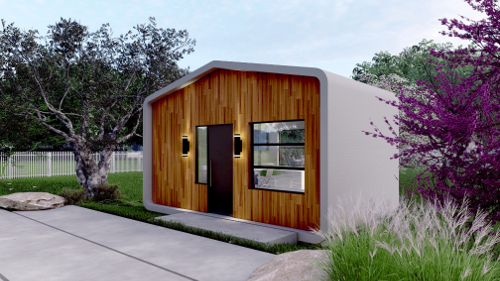 These homes are printed in 70% less time than it takes to build a house using traditional methods, and 30% cheaper. The company's small studio units can even be printed in one day, and delivered and installed within a week.
Of course, 3D home construction is still somewhat new.  Only over the past few years have we been able to see these things in the field.  But with the technology proving to be viable and cost competitive, 3D home printing could legitimately be the future of home construction.
In 2021, the global 3D printing construction market size was valued at $1.4 billion. By 2031, that number is expected to reach $750.8 billion, thereby representing a CAGR of 87.3% from 2022 to 2031.
It's even been rumored that Elon Musk's new 110-home subdivision in Texas could be using 3D-printed homes. 
Certainly this is a market that Azure is well-positioned to profit from.  And while the company is not publicly traded, it is doing a small equity crowdfunding raise that you can take part in.  The minimum is only $250, and essentially you'll be investing in a 3D home construction company that already has $5.2 million in signed purchase orders and $22.1 million in pre-orders .
You can check out the company's investment page here