Friends, we're on the cusp of the commercial cosmic revolution.
Long gone are the days when the military industrial space sector was the only game in town.
Increased competition and new technologies from a slew of private entities have blown the door wide open for the commercial space industry and added investment opportunities.
Modern titans of industry like Elon Musk and Jeff Bezos are vying for dominance in what is being called 'NewSpace'.And the market is paying attention.
In just six weeks back in 2019, Virgin Galactic Holdings (SPCE), Richard Branson's space tourism company, went from $7.25 to $18.50. This six-week spark helped turn investors' heads as a viable space play and now the stock trades slightly above $30 per share.
NASA defines NewSpace as "a movement and philosophy often affiliated with the private spaceflight industry. Specifically referring to a community of relatively new aerospace companies working to develop low-cost access to space or spaceflight technologies."
The evolving developments in space tech continue to lower the cost of entry, eliminating barriers for investors.
While widespread consumer space travel is still a ways off, investors should start considering what companies are most likely to benefit from the newest push into the final frontier.
But investing in NewSpace isn't as straightforward as you might think.
The industry is growing rapidly and many of the most well-known names are privately held.
Shoot For The Moon! Even If You Miss, You'll Still Be A Billionaire.
The NewSpace race has pitted the world's richest man and Amazon founder, Jeff Bezos, against Tesla CEO and eccentric entrepreneur, Elon Musk.
So far both companies have been able to develop a reusable rocket, with Musk's SpaceX reaching the milestone about a year before Bezos's Blue Origin.
Their next goal is much loftier. Both companies are shooting for the Moon.
Bezos-backed Blue Origin has landed an important contract with NASA to build a lunar lander for the upcoming 2024 trip to the moon.
Not one to be left behind, Elon Musk has announced his intention to send an unmanned starship to the moon by 2023, with the ultimate goal of having the ship be used to resupply astronauts on the moon in 2024.
Even though the two biggest names in NewSpace are privately held, there are still plenty of ways to make money from this trend...
Morgan Stanley estimates the global space industry could generate revenue of $1.1 trillion or more by 2040.
Here are the 5 easiest ways to invest in the final frontier.
Virgin Galactic Holding (NYSE: SPCE)
Elon Musk and Jeff Bezos aren't the only billionaires riding their rockets to riches.
The famed British rebel billionaire and Virgin Galactic (VG) founder, Richard Branson plans on being the first billionaire in space when his company starts commercial suborbital space flights in late 2020.
At a cost of $250,000 a ticket, Virgin Galactic presents itself as the first commercial space tourism company.
In 2019, VG made history by sending the first crewed commercial spaceflight into space.
It was the first crewed spaceflight from US soil since the space shuttle program ended in 2011.
With that successful flight in the bag, the future is shaping to be a major year for Virgin Galactic and investors are taking notice.
They plan to have five spaceships in operation by 2023.
Aerojet Rocketdyne Holdings, INC (NYSE: AJRD)
It's not just worth looking directly at companies that are launching rockets; it's worth looking at the support companies.
Aerojet Rocketdyne Holdings is an American aerospace and defense component manufacturing company.
Since 1955, Aerojet Rocketdyne has been an indispensable part of the American space program.
They've been a major supplier of rocket thrusters for everything from ICBMs to the space shuttle.
If it blasts off into space, there is a good chance that AJRD worked on it.
With NASA laying the groundwork to return to the Moon by 2024, AJRD stands to benefit.
The rocket maker has already completed testing 16 engines needed to support NASA's new space launch system.
Ball Corporation (NYSE: BLL)
When they're not busy producing over 6 millions aluminum cans a day for Coke, Pepsi, Budweiser, and Coors, Ball Corporation is busy building the largest camera ever sent into space for the Kepler Space Telescope or working with SpaceX to deploy an eco-friendly satellite propellant.
Since 1956, Ball's aerospace division has had a hand in manufacturing many of the most mission-critical components for NASA, particularly components for satellites and space telescopes.
With the help of NASA and Northrop Grumman, Ball's aerospace division is set to complete its most ambitious undertaking yet: involvement in the James Webb Space Telescope project.
This year, NASA is set to deploy the James Webb Space Telescope, which will be the replacement for the Hubble Space Telescope.
NASA describes it as "the most complex space science observatory ever built, capable of detecting light from the first stars and galaxies that formed in the universe and exploring planets around distant stars."
No doubt that this will be a crowning achievement for the aluminum can giant.
Even if the telescope fails to launch, Ball is buoyed by a strong performance in the beverage-packing industry and is both a pragmatic and exciting addition to any portfolio.
Garmin (NASDAQ: GRMN)
Some companies stand to profit from increased space infrastructure build up.
You're probably most familiar with Garmin's line of GPS units for cars and athletics, but Garmin's satellite navigation systems go beyond just cars and running watches.
With the rise of smartphone navigation, Garmin is pivoting away from the individual car units that made them a household name.
The GPS giant has been focusing on developing a deep aviation and specialty flight instrument portfolio.
And if their most recent earnings report is to be believed, it was the right move.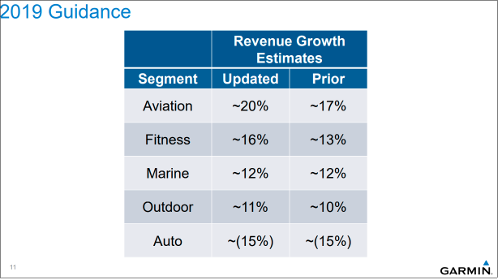 Their aviation division emerged as the biggest driver of growth in 2019.
This past year in 2020 we saw the launch of Garmin's Autoland System, an emergency landing system that automatically guides a plane to the nearest airport if the pilot becomes incapacitated.
ETFs —One Small Step For Man; One Giant Leap For Your Portfolio
Maybe you're looking for a lower-cost way to add diversity to your portfolio, while still supporting mankind's pursuit of the stars.
You don't have to boldly invest where no one has invested before.
Try these couple of ETFs instead:
Procure Space ETF (UFO) holds companies that generate a significant portion of their revenue from space and space-adjacent businesses like Virgin Galactic or Sirius XM.
SPDR S&P Kensho Final Frontiers (ROKT) holds companies that drive innovation in deep space or the deep sea, such as Lockheed Martin or Boeing.