1. Get Paid While Waiting for This Stock to Double...
In 2008, when gasoline prices were around $4 a gallon, I went looking for a new car. "What about these Mustangs?" I asked the dealer.
"Take your pick," he said, while he stuffed his cigarette through the hole in the tall plastic ashtray. "These will be the last muscle cars you'll ever see. Make me an offer; we have dozens of them."
No one was buying the gas-guzzlers back then because the thought was that oil was going to $200 a barrel. Of course, now car companies don't sell econoboxes and have regeared for big trucks and SUVs.
The simple truth is that oil is cyclical. This time is not different. Today's low oil prices will create tomorrow's high oil prices.
That makes Schlumberger (NYSE: SLB) the contrarian dividend buy of the decade. It hasn't been this cheap since 2009... the last time oil crashed.
Schlumberger is the world's largest oilfield services company. It employs 100,000 people from 140 companies and is ranked 287 in the Fortune 500.
SLB provides services such as seismic acquisition, well testing, and directional drilling, as well as a vast array of energy production solutions.
When the price of oil is going up, SLB does great business and the share price pops. When oil prices fall, profits fall and the share price drops.
Here is the Brent crude oil price chart going back to 2000. You can see it leads SLB's stock price.
2. Stealth Bull Market in Coal
China is currently adding 259 GW of coal capacity — that's twice the amount of power used by Texas. Meanwhile, in India, The Hindu BusinessLine is reporting that 121 out of 123 power plants have less than five days' worth of coal in stock.
This is being blamed on new power generation, which has grown 7% a year. The fact is that both China (65%) and India (75%) are hugely dependent upon coal-based electricity, which will be needed in even bigger quantities to lift their low standard of living.
Recently, Forbes reported, "U.S. coal exports increase by 61% last year as exports to Asia more than doubled."
You now have an investor's dream. Coal companies are undervalued because Wall Street has believed the lie that "coal is dead."
Not only that, but there is a production shortage and a demand boom. I've found a number of coal exporters that are paying huge 5–13% dividends and have earnings growth and money in the bank.
Coal Profits
Natural Resource Partners L.P. (NYSE: NRP) owns, operates, manages, and leases mineral properties in the United States. It owns interests in coal, trona, and soda ash, construction aggregates, and other natural resources.
The company's coal reserves are primarily located in Appalachia, the Illinois Basin, and the Western United States; aggregates and industrial minerals are located in Pennsylvania, West Virginia, Tennessee, Kentucky, and Louisiana; oil and gas royalty assets are located in Louisiana; and trona ore mining operation and soda ash refinery are located in the Green River Basin, Wyoming.
The company also operates four limestone quarries, one underground limestone mine, five sand and gravel plants, two asphalt plants, and two marine terminals. The company leases coal reserves and aggregates and industrial mineral reserves in exchange for royalty payments.
The company has a trailing P/E of $6.37 and a price-to-book of just 1.03. The company has seen quarterly earning growth of 47.20%, which is outstanding. They have also cut debt and interest costs. The company currently pays a 4.80% dividend.
No wonder the share price has been heading higher: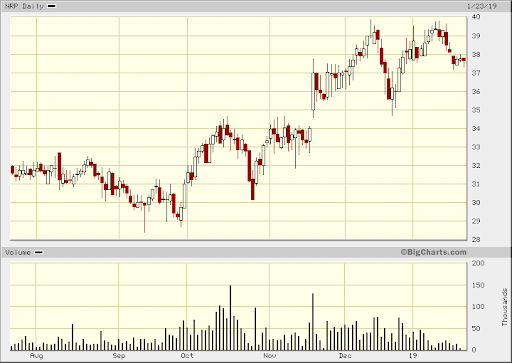 It's a stealth bull market in coal! And NRP is the way to play it.
3. Huge Yield, Massive Growth: It's All About the Data, Baby
If you really want to make money, there's no better system than the stock market. The average annualized total return for the S&P 500 Index over the past 90 years is 9.8%. But December 1999 to December 2009 was the worst decade for U.S. large cap stocks. Those returned a -0.95%, which is just terrible.
The goal is to avoid the losers and play the winners over the long term. To do that, you have to find consistent long-term growth at reasonable prices. And today, I'm going to tell you about one such stock…
It's called Broadcom (NASDAQ: AVGO), and it's been tearing up the charts for the past five years. The company has a compound annual growth rate (CAGR) of 31%.
Broadcom's Ten-Year Chart: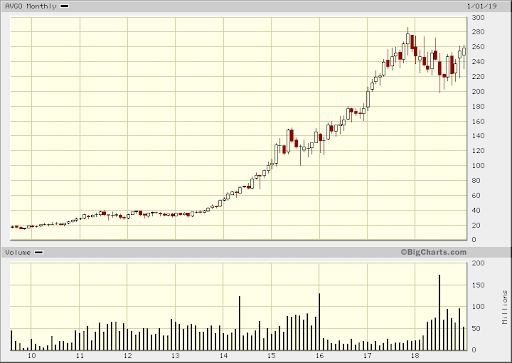 When it comes to big data and artificial intelligence, Broadcom is a long-term winner because the future is all about data — think cloud computing, 5G wireless, internet of things (IoT), and robot cars.
In 2015, there was 1 zettabyte (ZB = 1 sextillion bytes) transmitted by data centers. By 2020, there will be 4.3 ZB transmitted a year, and they'll continue growing rapidly. Broadcom creates semiconductors and other products that store and transmit data.
Its enterprise storage revenue is growing by 63% a year. That's better than cloud computing as an industry, which grew by 50% last quarter. For those who don't know, cloud computing is the practice of using a network of remote servers hosted on the internet to store, manage, and process data, rather than a local server or a personal computer.
It's far cheaper for a company to pay a monthly fee to Amazon or Microsoft to let them host and manage their data than it is to have a server in the closet. It should also be noted that the Department of Defense (DOD) is going to spend $10 billion in September on the cloud. This will be the biggest deal in the history of the industry.
Broadcom makes the hardware that runs the cloud.
In the most recent quarter, the company reported gross margin at 66.6%, EBITDA was 52.3%, and free cash flow was 42.3% of revenue. These are all records.
The company is also buying back $1.5 billion, or 6.4 million shares. Consolidated net revenue for the second quarter was $5.02 billion. This is right above the midpoint of guidance, with strong wired and enterprise storage results offsetting weaker wireless revenue.
In the latest quarter, wired revenue was $2.3 billion, growing 9% year over year and 22% sequentially. The wired segment represented 46% of our total revenue. Second-quarter wired results reflected a strong sequential increase in demand from cloud data centers and a seasonal recovery in broadband access.
Solid year-over-year growth was driven by the robust increase in networking and computation offloading in cloud data centers and also strong growth spending by enterprise information technology (EIT). The company expects these trends to continue.
Moving on to wireless: In the second quarter, wireless revenue was $1.29 billion, growing 13% year over year but declining 41% sequentially. The wireless segment represented 26% of total revenue. The drop-off was due to a decline in smartphone sales.
This is seasonal and should ramp up going into Q3 and move even faster when 5G rolls out. 5G is expected to be so fast that you'll be able to get rid of your cable bill. People are talking about 6.5 megabytes per second (MB/s) compared to 55 megabits per second (Mbps) for your home internet…
Enterprise Storage In Q2: Broadcom's enterprise storage revenue was $1.16 billion and represented 23% of our total revenue. Enterprise storage segment revenue grew 63% year over year and 17% sequentially. In the second quarter, industrial segment revenue was $263 million, growing 17% year over year and 5% sequentially. The industrial segment represented 5% of total revenue. The company is making a lot of money on IT spending and cloud growth. It has $8 billion in cash and $10.5 billion left in stock buybacks…
Undervalued, Plus a Dividend: The company is also cheap. It has a price-to-earnings (P/E) ratio of only 8.64, which is one-third of its 10-year average of 28.4. It also has a price/earnings to growth (PEG) ratio of 0.84 and a dividend yield of 4.15%, which is also growing.
The trailing yield was 3.06%. And over the past five years, it's grown by 51% a year! So, why the short-lived sell-off?
Broadcom recently announced that it was buying CA Technologies (NASDAQ: CA) for $18.9 billion in cash. The market didn't like it because CA Technologies is in IT mainframes, which are a mature and declining industry.
The market didn't like the buy, so it sold the stock. But CA Technologies' software side has margins of 64%. This will boost margins by about 8% and become accretive to both earnings per share (EPS) and free cash flow to about $5 billion a year.
This means that it'll only take three-and-a-half years to pay off. Seems like a good deal to me. If I were buying a dividend growth stock I wanted to own for 10 years, Broadcom would be it. In fact, I do own it.
All the best,
Christian DeHaemer