Many businesses today are facing shortages from plastic cups to caramel.
It's not just local mom-and-pop restaurants either — at the end of June, Starbucks employees reported shortages of lemonade, caramel, and oat milk.
Taco Bell and Chipotle reported similar issues.
Global shipping delays seem to be the root of this problem.
The shipping industry has been in a crisis. It's almost like a perfect storm of events led the industry to be in the state that it's currently in.
It's almost like a perfectly laid-out domino path; events as far back as 2018 contributed to the shipping crisis. Main producers of major resources found their supply dwindling, demand for their products growing, and no way of distributing them on time.
Throw a global pandemic on top of brewing catastrophes, sprinkle on a six-day blockage of the Suez Canal for good measure, and boom.
Shipping crisis.
The shipping containers we see today were popularized in the 1950s. The transport of goods via standardized containers was revolutionary back then. Standardized containers were used on freight trains and 18-wheelers in no time.
Soon, the use of containers became the standard practice across the globe.
The growing popularity of the shipping container called for the physical growth of ships to transport TEUs, or 20-foot equivalent units.
TEUs are the rough measurement of a shipping container. The dimensions are usually 20 feet long, 8 feet wide, and 8 feet tall.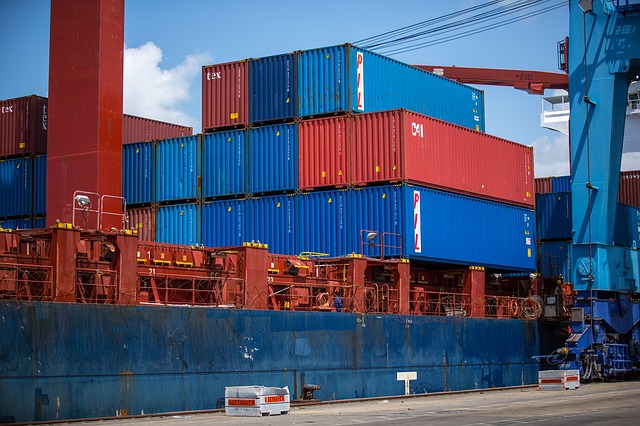 The earliest container ships held about 58 containers. Today, the largest container ship can hold 23,964.
As impressive as that sounds, many wonder if container ships are too big, carrying too much cargo.
The Suez Canal blockage earlier this year was a perfect example of this. Was the Ever Given too big?
Plus, it's not uncommon for containers to fall off their ships.
A Bloomberg article estimated that over 1,000 shipping containers have fallen off ships into the sea this year alone. Last year, about 3,000 containers fell off ships.
Today, the shipping liner industry moves an estimated $4 trillion in goods between ports every year.
There are over 5,400 active ships today. That would be an optimistic number if it wasn't for the fact that a good amount of them aren't moving — they're anchored.
And they're empty.
Take the LA shipping dock, for instance. The port of LA accounts for one-third of U.S. imports. It's a primary source of imports from China and other major trade countries.
And it's been congested for months.
Container ships have been anchored off the coast of LA for weeks. Several are waiting to dock, carrying millions of dollars' worth of imports like auto parts, furniture, and electronics.
According to global transport and logistics company Kuehne + Nagel, 353 container ships are anchored around the world.
That's double the amount from 2020.
When the ports are as congested as they currently are, delivery times are heavily delayed.
Rachel Premack, who has been following the crisis for Business Insider, expressed concern about the size of ships compared to the ports they're anchored at: "These massive ships can deliver more per voyage, but ports like Los Angeles or Long Beach — they weren't made to accommodate ships of that size."
Port delays peaked in February 2021 with 38 ships. But at the congestion rate we're seeing, it won't be a shocker to hit a record high yet again.
There are currently 33 ships anchored off the coast of Los Angeles waiting to dock.
And it looks like they're going to be waiting for a while.
So what does that mean for the average consumer?
Prepare Your Wallet
By the law of supply and demand, prices for goods and services are hiking up. Large chain restaurants like Chipotle have already increased menu prices by 4%. Red Robin and Cracker Barrel followed with a 3% price increase.
The U.S. Department of Labor reported consumer prices hitting their highest level since the 2008 recession.
On top of a shipping crisis, companies are forced to hike prices when they're faced with other complications.
For example, California's drought is leading experts to predict food prices to increase about 3%. The National Integrated Drought Information System considers this the driest season California is experiencing.
And they're saying it's far from over.
We won't be seeing an increase in supply of goods for up to two years, according to Jason Chiang, Director at Ocean Shipping Consultants. "There are new orders for shipping capacity, equal to almost 20% of existing capacity, but they will only come online in 2023," Chiang said.
Now, one thing to keep in mind is that food price inflation was already on the rise pre-pandemic.
In 2018, a large portion of China's hog herd was taken out by an African swine fever outbreak. China's hog herd counts for 50% of the world's hogs, causing pork prices in China to peak the next year.
This obviously had a ripple effect on other animal proteins around the world.
It didn't help with the Chinese import tariffs on soybeans in addition to U.S. pork during the U.S.-China trade dispute.
This was about six months before the pandemic hit. Of course, there was no way for a bounceback before 2020.
So what do we see as a result?
Source: IMF
The U.S. Bureau of Labor Statistics listed five foods that are going to be pricier until summer 2022:
Bacon — 1.5% price increase

Whole milk — 11.2% price increase

Eggs — 5.7% price increase

Ground coffee — 1.9% price increase

Bananas — 1.2% price increase
Raw materials aren't immune to this, either.
We're all aware of the semiconductor shortage — the slow pace of manufacturing across the globe is constantly compared to the gas shortage of the '70s.
It's easy to guess where semiconductor chips that are ready for use are...
Awaiting to reach their customers.
Semiconductor distributors like Digi-Key Electronics raised the price of semiconductor-based products by 15% this year.
Other companies hiked their prices up on various computer components like motherboards, SSDs, and power supplies.
The price increases range from 7–25%.
So the average consumer is going to be expected to shell out more than usual for everyday items.
And it's not just confined to the U.S.
All On The Same Boat
California isn't the only place that faces concerns of yield and production losses due to drought.
Brazil recently made a 10% cut in corn production in what is described as "the worst drought in nearly a century."
Argentina placed a 30-day ban on beef exports in June 2021. This was in an effort to have control over rising meat prices in the country.
One of the leading countries in meat production, Argentina shipped out about $3 billion worth of beef in 2020.
A key transport hub to many major businesses is China's Henan province. Devastating flooding in the area damaged railways used for delivery of goods and raw materials.
The Henan province's main exports are electronics — with industrial areas heavily damaged, production in consumer electronics is going to face the heaviest strain of impact.
At the beginning of August 2021, there were only six ships anchored off the coast of Xiamen, China. Currently, the number of ships stands at 24.
Some shipping companies decided to anchor outside of Ningbo and wait out the port closure. There are currently 141 ships anchored off the coast of Ningbo and Shanghai.
The alarming rate was caused by the partial closing of the nearby Ningbo port. What caused the third-busiest shipping port in the world to close?
An outbreak of the delta variant amongst the employees at one of the terminals.
This resulted in ships going elsewhere to load, explaining the backup in other ports.
And you see the effects of every hurdle reflected in the prices of commodities.
The UN Food and Agriculture Organization food price index is used to measure the global average on foods commonly traded across the world.
Just from April 2021 to May 2021, it rose about 5%.
The levels it reached are almost 40% higher than levels from the previous year.
Transportation costs for container ships between Asia and the U.S. surged 250% higher from this time last year.
The freight rate per TEU on the Shanghai container freight index to South Africa is drastically higher than previous years:
Via InvestC
Ship carriers intentionally "blanked," or canceled shipments, in the second quarter of 2020 in hopes to compensate for heightened demand. Ships that leave Asian coasts don't see the West Coast of the U.S. for up to three weeks.
Container shipping rates from China to the U.S. climbed at an alarming pace — in late July 2021, the spot price per container was under $11,000.
As of August 2021, the price stands at $20,084.
The world is wrapped up together in this crisis — if one country falters, the rest of the world could be subject to an effect that digs the shipping industry into a deeper hole.
This causes the industry to think outside of the box to find a solution that could stabilize the crisis.
Unconventional Solutions
Did you know that it's illegal to drive a shipping container into most cities?
It's probably aligned with the mass of a single container.
President Biden's plan to invest $17 billion into port expansion within the nation is definitely a step in the right direction to alleviate backlogs.
You see, time is of the essence.
But the issue is that it can take years to solve the crisis. The time it takes to just install a crane can be up to 18 months.
The main issue zones in on cargo reaching its way to stores. These massive ships await offshore to be filled in the midst of shortages.
The question of if cargo ships are too big was raised earlier — that may be the quickest solution to a global problem.
Time is of the essence — everyone is affected.
CEO of short sea distribution company Zulu Associates, Antoon Van Coillie, reiterates the importance of the industry's focus on the most congested ports such as New York's.
The port authority of New York and New Jersey spent $1.7 billion over the duration of six years to raise the Bayonne Bridge 215 feet over the waterway to accommodate larger ships passing through.
Coillie also expressed concern on cargo ship size: "Disruptive innovations are needed to change radically the way goods are moved from ports into cities. To do that we must move from mega-ships to mini-ships."
Look at the growth of ships over time:
Via The Geography of Transport Systems
Smaller ships would minimize the burden most ships carry. It wouldn't be a universal fix — but it could get things moving quicker.
Countries like the U.K. are investing in short sea distribution, which is just transporting goods over short distances. Short sea distribution isn't a domestic practice — countries can use coastal and inland waterways to transport goods to nearby countries.
Amazon facilities are springing up along the riverbank east of London, buying old wharfs and plots of land.
There, Amazon plans to help develop London's first shipyard in a century. In June, the river Thames became a hub for medical supply transport.
Amazon isn't alone — delivery giant DHL and supply company CEVA Logistics are using the river to their advantage.
As small scale as this effort is, skimming shipping costs is the name of the game. Especially around the corner from the holiday season where shopping peaks and customers order gifts online expecting them to come at a certain time.
After the season dies down, the shipping industry has a good chance at taking some time to recover and repair.
Whatever approach it may be, it doesn't seem like we'll be seeing any action to solving the crisis at full charge until next year at the earliest.
But it's not all bleak.
Silver Lining
There are companies that are doing well, given the circumstances.
Danish shipping company Maersk reported a 30% increase in revenue earnings compared to the same quarter last year.
On average, a Maersk ship calls to a port every six minutes.
Star Bulk Carriers (NASDAQ: SBLK), Genco Shipping (NYSE:GNK), and Eagle Bulk Shipping Inc. (NASDAQ: EGLE) are three more shipping companies that seem to be doing well in the midst of the crisis.
All three companies maintained a time charter equivalent (or TCE) above $20,000. This means that the daily revenue of each vessel of the companies averages over $20,000.
Check out their performances below:
NASDAQ: SBLK
SBLK has outperformed earnings estimates this year. In fact, it reported that its most recent quarter was a record quarter of profitability.
Its second quarter net income reached $124.2 million. Its second-quarter operating cash flow generated around $140.5 million. Shareholders get a large portion of the cash flow, about $0.70 per share on dividends.
Net debt has decreased by $36.2 million following the delivery of three new vessels.
TCE: $22,927
NYSE: GNK
Analyst estimates are optimistic in regards to GNK.
Revenue has already reached $391 million this year, an all-time high. The second quarter of 2021 expected over $75 million in revenue, but GNK surpassed expectations with a reported revenue of $84.31 million.
So far this year, GNK's share price rose 128.44%.
TCE: $21,137
NASDAQ: EGLE
Currently, Eagle Bulk Shipping's earnings per share is at $5.06.
This is a huge jump from the fourth quarter of 2020, where earnings per share were in the negatives. The 103.8% increase in EPS over the duration of less than a year is reflected in optimistic forecasts.
The highest expectations for EGLE's stock price (currently at $45.12) is a 49% increase — but the lowest expectation is still a 22% increase.
TCE: $21,580
There's going to be a grueling waiting game on the horizon — though they're keeping afloat now, shipping companies are understandably anxious as we inch closer to the holiday season.
As we come to the two-year anniversary of the pandemic, all eyes will be on the shipping industry.
Which direction will it go? What companies will come out of the crisis as big winners?
If you keep up with Energy and Capital, these questions will be answered — and more. The next few months will determine huge changes for the shipping industry.
Whatever direction it goes in, our experts at Energy and Capital are at your disposal to inform you on the good, the bad, and the ugly.
The crisis is a unique situation; there are going to be unique opportunities to profit off it. Don't miss out on them! If you're looking for more extensive information on the shipping crisis, Energy and Capital's very own Christian DeHaemer is keeping a close watch on the developments in his Bull and Bust Report newsletter.

You can learn more about that here...