Looking around, we see fewer and fewer gloomy forecasts emerging.
We certainly can't blame their optimism.
And for investors like us, we have to focus on the fundamentals going forward.
After all, demand in Asia — particularly in India — has been recovering. Here in the U.S., gasoline demand has recovered somewhat and now sits around 8.5 million barrels per day — roughly 800,000 barrels per day below the level we were at a year ago.
Take a look for yourself at just how out of whack the supply/demand situation was throughout 2020: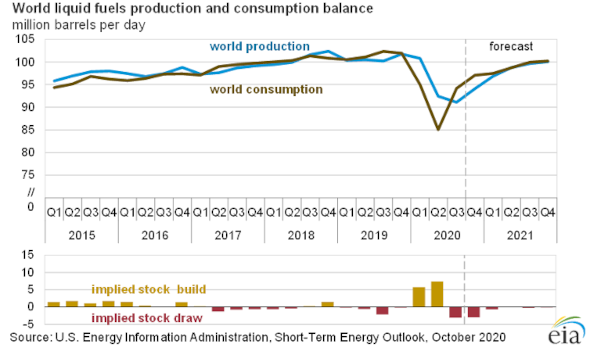 We're not the only ones who see a return to normal in 2021.
Russia's oil minister announced in September that he believed global oil consumption would return to pre-COVID levels by next June.
Still, OPEC+ remains cautious.
After posting a 101% compliance rate to its production cut deal in August, the 19-member alliance of major oil-producing countries seems to understand how precarious things are for oil markets.
The group produced an average of 34.22 million barrels per day in September — more than 50,000 barrels per day lower than the previous months. Moreover, compliance grew slightly to 103% as countries like Iraq (which is well known for breaking quotas) produced less than their assigned quota. Meanwhile, the Saudis' output for September averaged 8.99 million barrels per day.
Assuming we can take OPEC+ at its word (which I know we are loathe to do given its comical production quotas in the past), at the very least it appears it understands the situation.
Of course, we can't hide our skepticism whenever the bears point toward Libyan oil output as a beacon of hope to boost supply.
How many governments are claiming power in Libya's capital right now? Libyan output has been incredibly unreliable ever since the country was thrust into civil war years ago.
But don't worry, renegade Gen. and Field Marshal Khalifa Haftar informed us he's lifting an eight-month blockade on Libya's port.
Oh, well then, consider our minds at ease.
Yet even with more potential addition of light crude out of Libya, others in the OPEC+ alliance are struggling to tread water.
Mexico recently cut its production targets for 2021, thanks to a steeper-than-expected decline in Maloob, the country's largest offshore field.
This is just another notch in a long series of setbacks for Pemex unless any of you have happened to forget the lessons unlearned after Cantarell's demise.
At one point, the Cantarell Field was one of the largest oil fields in the world, and now it's a shell of its former self — an aging super-giant field on its deathbed.
Although the short term doesn't give us bullish tingles, the horizon brightens in 2021.
We're not the only ones who think so, either.
Both Citigroup and Goldman Sachs see prices recovering in 2021, with the latter calling for prices to top $65 per barrel by next September.
The Energy Information Administration (EIA) remains skeptical. In its latest Short-Term Energy Outlook, the EIA projects WTI crude prices to average $45.07 per barrel next year.
Still, the EIA also expects global consumption to average 99.6 million barrels per day, just barely above projected demand of 99.34 million barrels per day.
I have a feeling the EIA will be breaking out the revision pen before too long… depending on how dire our supply situation becomes.
Demand growth has always hinged on how the world transitions back to "normal." Even after we're told that a second wave of COVID is imminent, it's hard not to see consumption levels rising.
For us, it all comes down to supply.
However, it's not OPEC+ that has captured our attention but rather the tight oil fields in the United States.
Long before COVID, social distancing, complete economic shutdowns, and face masks became part of everyday life in the U.S., our tight oil was the single largest contributor to global output for more than a decade.
No, dear reader, we don't need a massive consumption spike above pre-COVID levels to be bullish on oil prices.
Oil's biggest story in 2021 will be whether or not the U.S. exploration-and-production sector will recover in time to offset the steep decline rates our tight oil wells will experience.
I've told you before that the consequences of halting oil exploration will be far harsher than most investors understand.
You don't just magically turn the taps back on and expect our output to return to normal overnight.
Drillers aren't in growth mode right now.
No, right now they're in survival mode.
Keep in mind that more than 7.7 million barrels of oil per day flowed out of tight oil wells in 2019. As you might've guessed, drillers have been idling more and more rigs, which will have a devastating effect on supply in 2021.
According to an October rig count by Baker Hughes, there were just 211 oil rigs operating across the United States.
That's 485 fewer active rigs than there were a year ago.
Unsurprisingly, approximately 60% of the oil rigs running today are located in Texas.
Despite this halt in drilling activity, gasoline demand is experiencing a V-shaped recovery. In fact, demand has not only returned to its mid-March levels but traders are starting to get very bullish.
You've heard me tell you before that the cure for low oil prices IS low oil prices.
More importantly, we should be taking full advantage of this reset.
Until next time,
Keith Kohl

Check us out on YouTube!
A true insider in the technology and energy markets, Keith's research has helped everyday investors capitalize from the rapid adoption of new technology trends and energy transitions. Keith connects with hundreds of thousands of readers as the Managing Editor of Energy & Capital, as well as the investment director of Angel Publishing's Energy Investor and Technology and Opportunity.
For nearly two decades, Keith has been providing in-depth coverage of the hottest investment trends before they go mainstream — from the shale oil and gas boom in the United States to the red-hot EV revolution currently underway. Keith and his readers have banked hundreds of winning trades on the 5G rollout and on key advancements in robotics and AI technology.
Keith's keen trading acumen and investment research also extend all the way into the complex biotech sector, where he and his readers take advantage of the newest and most groundbreaking medical therapies being developed by nearly 1,000 biotech companies. His network includes hundreds of experts, from M.D.s and Ph.D.s to lab scientists grinding out the latest medical technology and treatments. You can join his vast investment community and target the most profitable biotech stocks in Keith's Topline Trader advisory newsletter.