Make no mistake, you and I are being lied to anytime a politician — from either side of the aisle — tells us that U.S. oil production is going to suddenly surge to a pre-pandemic rate of 13 million barrels per day.
And yet that shouldn't stop you from being bullish on oil in 2023.
Nobody wants to hear that higher oil prices are ahead. 
Yes, crude prices are actually selling off as more fear invades the market over weaker economic outlooks. 
The cost of Western Texas Intermediate crude fell in early November by nearly $10 per barrel before finally rebounding. What's interesting is that despite the "sell-off," WTI were trading just shy of $90 per barrel shortly after. 
For a little more perspective on that price, WTI is only about 7% higher than it was a year ago.
To be fair, that's not egregiously high considering that U.S. refiners are seeing strong demand for their petroleum products. 
Oil Outlook 2023: Oil's Path Forward
Based on current EIA projections, the average price of Brent crude is expected to decline in 2023 to $95.33 per barrel — representing a 6% year-over-year decrease.
However, the EIA isn't expecting a similar move from WTI. In fact, its Short-Term Energy Outlook report is forecasting WTI prices to slowly rise throughout 2023.
Take a look for yourself: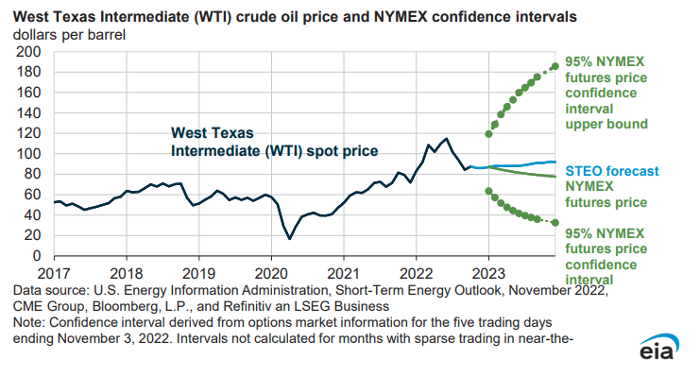 But let's take things just one step further here…
As you can see below, global supply/demand fundamentals will turn bullish for prices during the first quarter of 2023 as world consumption outpaces production:
Perhaps it's just the political talking points flooding the media, but there's no chance that U.S. drillers will push domestic production to 13 million barrels per day in this market environment. 
The EIA doesn't think we'll even get close to that number, projecting that U.S. oil production will average 12.31 million barrels per day in 2023. 
I think things could get much worse before they get better.
Close your eyes for a moment and just think of the situation the U.S. will be in when the SPR spigots snap shut. Last week, the sales totaled about 3.6 million barrels, and we've been dumping nearly 1 million barrels per day for almost nine months. 
During that period, we've cut our strategic reserves in half (mind you, this comes at a time of historic levels of geopolitical volatility, with Russia openly at war with Ukraine and China taking notes with an eye on Taiwan) and are exporting record amounts of oil and petroleum products to the world. 
Now open your eyes again and tell me crude oil prices will head lower in 2023. 
Riding the Oil Bull in 2023
If you're looking to gain exposure to the oil market and ride the bull in 2023, then we highly suggest you look into Devon Energy Corporation (NYSE DVN).
Devon Energy Corp. is an independent oil and natural gas exploration and production company. They are primarily focused on onshore projects in the United States.
On November 1st, 2022 Devon announced a fixed-plus-variable dividend of $1.35 per share – which represents a 61% increase YOY. According to Devon Energy's website, the dividend is expected to be paid on Dec. 30th 2022 to investors who held shares by markets close on Dec. 12, 2022. 
Even if you've missed the cutoff for the newest dividend, that doesn't mean you can't reap the rewards of being a shareholder. 
DVN is currently trading just over $70 per share, but we could see it climbing as high as $115 per share – possibly higher given the unique geo-political climate and increased demand. 
Not only does Devon offer exposure in the oil market, but it also gives investors a chance to benefit from the natural gas market, which is also headed for a bullish winter (but that's another topic we'll be covering). 
Toro! Toro!
If you're looking to gain more exposure to the energy bill of 2023, Energy and Capital editor Keith Kohl has been pounding the desk about some lesser-known oil companies that he believes could make this free play look like peanuts. 
Because he's such a firm believer, he's refused to allow us to give this recommendation for free and is reserving it for his premium subscribers at Energy Investor.
While Keith has told us we can't give away his secret recommendation for free, he did give us permission to forward you his way so he can tell you all about it himself. 
If you're interested in seeing what Keith has to say about the tight oil market for 2023, have a seat and join him. Click here for his free presentation about this limited window opportunity.
P.S. - this could be a once in a lifetime millionaire maker event, so it's at least worth checking out.