With over 76 million people, Millennials have overtaken Baby Boomers as America's largest generation. And they're not just bratty teenagers or even students anymore.
No, they've hit prime working age and their impact is fundamentally reshaping all aspects of the economy. Like it or not, Millennials have come of age and they are changing the world.
What does this mean for you as an investor?
It means Millennials are now the world's most powerful consumers. It means move over Baby Boomers and Gen Xers, the Millennials are here and they want to do things their way. For better or for worse, their opinions matter to businesses more than ever.
Who Are The Millennials And Why Do I Care?
The Pew Research Center defines the age group as anyone born between 1981 and 1996.
You may have also heard them called Generation Me or the Participation Trophy Generation.
Often depicted as selfish, spoiled, and lazy, Millennials are most defined by their relationship with technology.
Having matured right alongside the internet, most Millennials are truly most comfortable when they're in front of a screen.
And there is strength in numbers. As of 2019, there are 73 million Millennials in the USA, compared to just 72 million Baby Boomers.
Thus, marketers are going all out to cater to Millennial tastes and values. Convenience is king with Millennials and should be prized above all else. If there is a way for something to be done quickly, without complication or conversation, Millennials are typically all for it.An entire generation addicted to instant gratification, Millennial consumers are cutting out the middle-man, demanding instant results, and sharing the whole process on social media.
Whether it's canceling cable in favor of Netflix or having a Casper mattress delivered straight to their bedroom with the tap of a smartphone, Millennials love businesses that are direct to consumers.
As the new kings and queens of commerce, Millennials are having a market impact that many corporations are still struggling to figure out.
We've put together this guide to clue you in on how the selfie generation is finally settling down and what that means for the market.
Housing

[Pictured: The Millennial's Dilema]
Millennials have often been criticised for being late to the real estate market.
Explanations range from excessive spending on frivolities like lattes and avocado toast to excessive student loans or low paying jobs in the gig economy.
However, it looks like things finally seem to be changing.
As a generation, Millenials have finally saved up enough money driving Ubers and cutting back on avocado toast to move out of their parents' basements.
Rather than look up from their phones for one minute and talk to a realtor, they're turning to online services to find the perfect pad.
Zillow (Nasdaq: ZG)
According to a report by the National Association of Realtors, 99% of Millennials search for homes online.
Listing over 110 million houses for rent or sale, Zillow is the number one name in online real estate. They've fundamentally transformed the way people search for houses online.
The website uses 3rd party data collected from states and counties to map and estimate the value of nearly every piece of property in the US.
More than just a database of houses, Zillow also offers a range of services from helping landlords screen potential renters to custom mortgage quotes for potential homebuyers.
And should you decide you want to bring a real estate agent into the mix, Zillow has you covered with their agent finder directory.
Wayfair (W)
As the great George Carlin once put it, "A house is just a place to keep your stuff while you go out and get more stuff."
Wayfair is the Millennial's choice for getting more stuff to fill their newly acquired houses and apartments.
Shockingly, the largest online furniture retailer in the US isn't Amazon or Ikea. It's Wayfair.
Wayfair offers more than 14 million pieces of furniture and decor.
It's among a number of e-commerce companies showing that intense specialization can be successful in a world where Amazon seems to dominate everything.
As well known brick-and-mortar home decor chains like Pier-One and HHGregg shutter their doors, Wayfair seems to be filling the niche for younger shoppers.
Pets
In 2019, Toy R Us went out of business.
Of course there were many factors, but Millennials bore the brunt of the blame by having so few children compared to previous generations when they were the same age.
While many Millennials aren't ready to have kids just yet, they are certainly willing to adopt a pet.
Millennials are the most likely age group to have a 'fur-baby' in the US.
According to the Wall Street Journal, nearly 70% of Millennials have a pet of some kind.
In many cities, like San Francisco for example, dogs outnumber children under age 18.
[Pictured - The reason you don't have a grandchild yet]
The 'fur-baby' economy is no joke.
In 2019, American spent $70 billion on feeding and caring for their pets, including nearly $500 million on Halloween costumes.
Chewy (NYSE: CHWY)
According to Forbes, Chewy has passed Amazon as the largest online pet retailer.
They bill themselves as your single online stop for everything from food and toys to their industry-leading pet pharmacy.
A big attraction for Chewy, besides it's wide variety of pet products, is its autoship option.
Chewy estimates how long a bag of pet food will last and will continue to send out pet food at that interval.
Much like Wayfair, their success can be attributed to successfully dominating a niche that Amazon is unable to control.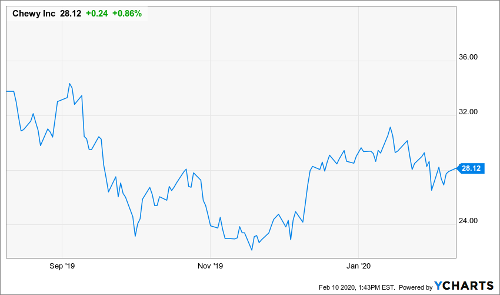 Freshpet (Nasdaq: FRPT)
According to the American Pet Products Association, 25% of dog and cat owners would prioritize their pet over themselves.
Just like humans have opted for more organic, natural, and fresh food options for themselves in recent years, Freshpet is betting big on you doing the same or better for your four-legged friend.
Freshpet's assertion is that using quality fresh ingredients in their food is what sets them apart from other pet foods.
You may have even noticed one of their 21,000 refrigerated sections inside of your local pet store or supermarket.
Displaying mega-growth over the past few years, Freshpet offers a fairly consistent performance.
Gambling
Millennials are killing traditional sports networks, like ESPN.
According to Nielsens, the sports network has lost 17 million subscribers since 2010.
The largest drivers were Millennials leaving cable behind in favor of commercial-free streaming alternatives.
Sports engagement for a generation with a short attention span in the age of YouTube needs to be both meaningful, exciting, and, most importantly, efficient.
This is why the NFL launched their deep cable network/web stream, NFL Redzone.
Redzone is a commercial free, head-spinning broadcast featuring all the day's currently airing NFL games, punctuated by host Scott Hansen highlighting pivotal moments in as many as 8 games at a time.
On their website, the NFL states, "NFL RedZone is the perfect fantasy companion, allowing fans to improve their fantasy roster."
In 2019, 59.3 million people in the US played fantasy sports.
That's nearly 20 percent of the population.
Whether it's their love for fantasy sports or their non-traditional media consumption, corporations are bending over backwards trying to acquire Millennial viewers.
Penn National Gaming (Nasdaq: PENN)
The image most people have in their minds when they think of a casino is one of old people shuffling between the penny slots and the buffet.
Penn National Gaming is aggressively seeking to change that.
Having bought a 36% stake in alternative sports media company Barstool Sports, Penn National is hoping to attract more Millenials.
Barstool Sports is the 6th largest podcast publisher in the US, with 36 shows and an estimated audience of over 8.1 million.
The partnership will allow Penn National properties and services to be advertised on Barstool shows and lend the Barstool brand to both Penn's physical and online gambling offerings.
Customer data shows that the Barstool brand should bring a youthful surge of customers to an otherwise ageing customer base.
The pair hopes this partnership will allow both companies to directly compete with household names like Fanduel and DraftKings..
Churchill Downs - (Nasdaq: CHDN)
When you think of Churchill Downs, you're probably thinking mint juleps, ladies in big floppy hats, and the Kentucky Derby.
What you might not know is Churchill Downs also owns the world's largest online advanced-deposit wagering platform, TwinSpires.com, and BetAmerica, an online sports-betting service in New Jersey, Pennsylvania, and Indiana.
While TwinSpires is focused on horserace betting, BetAmerica was created to tap into the increasingly lucrative sports-betting market.
It's a truly massive market that the American Gaming Association has valued at nearly $150 billion.
Closing Thoughts
Millennials have already changed the economy with their need for instant gratification and aversion to doing things in person.
There is a window of opportunity to cash in on this as the Participation Trophy generation finally grows up.
Love it or hate it, expect the market to continue to focus on whatever these aging hipsters want.
Savvy investors should act quickly before Millennials move on to the next thing or get overtaken by Generation Z.