This Single American Oilfield Produces More Than 12 OPEC Nations
Posted December 26, 2018
---
On Thursday, December 31, 2015, at around 4:30 p.m. Central time, a floating city named the Theo T departed the Port of Corpus Christi in southeast Texas.
The Theo T's destination was kept a secret by its owners, but we do know the contents it was holding below its deck were worth an estimated $24 million.
Later, marine shipping records revealed the Theo T was on a three-week journey eastward across the Gulf of Mexico to the Atlantic Ocean and then passing through the Mediterranean Sea to a port somewhere in Italy.
Aside from the millions upon millions of dollars it held and the secrecy surrounding it, the Theo T's maiden voyage (of sorts) would make history that's still being felt today.
You see, the Theo T is an oil tanker. And it was holding 600,000 barrels of American crude that came out of the Eagle Ford shale in Texas.
When it left the port in Corpus Christi, it was the first-ever oil exported from the United States in over 40 years!
Since that fateful New Year's Eve, the floodgates have been open. America has unleashed a tidal wave of oil all over the planet.
Take a look:
U.S. Shale Boom Goes Global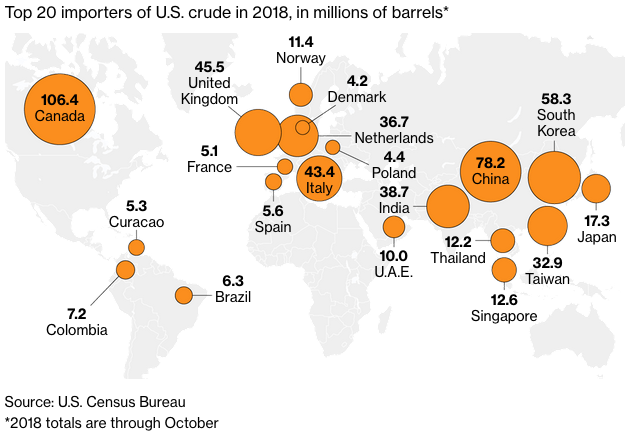 Source: Bloomberg
Now take a look at this chart:
Oil Production/Millions of Barrels Per Day
Nation
b/d (millions)
Saudi Arabia
10.4
Iraq
4.4
Iran
3.9
U.S. exports
3.4
UAE
3.1
Kuwait
2.9
Venezuela
2.2
Nigeria
1.9
Angola
1.7
Qatar
1.5
Algeria
1.3
Ecuador
0.55
Libya
0.38
Congo
0.26
Equatorial Guinea
0.22
Gabon
0.21
The United States is now exporting more oil than 12 OPEC nations produce!
How did this happen?
Simply put, the United States is now the world's top oil producer. Yes, that's right — the U.S. now produces more oil than Russia and Saudi Arabia.
Technological advances in drilling have accelerated so much in the last three years that America's legendary Permian oil basin in west Texas is producing more oil than most OPEC nations.
That's right — a single oilfield is out-producing most of OPEC.
It's the sole reason gasoline prices at the pump have plummeted.
That's because hundreds of billions of barrels of oil in America's oil fields that were once unreachable using traditional extraction methods are now easily pumped out of the ground using new methods.
Some of these methods have been operational for only a year. But the results have been game changing.
Journalists at the Financial Post have seen some of these new technologies in action. They were blown away, saying:
You add all the numbers up and what you start to come up with is very, very scary…

Dwarfs all other drilling techniques...

It's the next big thing after fracking!
But it gets even more dramatic than that.
The Best Free Investment You'll Ever Make
Our analysts have traveled the world over, dedicated to finding the best and most profitable investments in the global energy markets. All you have to do to join our Energy and Capital investment community is sign up for the daily newsletter below.
You'll also get our free report, Two Stocks to Play The Coming U.S. Oil Export Surge
CNN Money said:
For the first time since 1973, the United States is the world's largest producer of crude oil, according to the Energy Department...

The achievement underscores the profound impact of rapid technological advances in drilling.
A recent energy report cites the U.S. Department of Energy's own data and predicts:
This single oilfield [the Permian] in America could produce more oil than Saudi Arabia or Russia in the next 10 to 15 years.
And the IEA recently said:
The United States will be the undisputed leader of global oil markets for decades to come.
And again, it's all because of these new breakthrough drilling technologies that are being deployed in American oilfields.
That's what makes this opportunity so exciting.
Scattered throughout the United States and Canada, there are several oilfields with potential like the Permian... in New Mexico, Utah, Wyoming, Montana, North Dakota, California, Oklahoma, Kansas, Pennsylvania, and all over Canada, not to mention in the vast Gulf of Mexico.
We are talking about hundreds of billions of barrels of oil ready to be tapped.
This story is just getting started.
In the coming months, I'll bring you exclusive opportunities in America's emerging oil patch. I'm talking the companies with the technological breakthroughs to pump up every last remaining drop of oil within their reach.
It's a great time to be in the oil and gas sector.
Until next time,
Keith Kohl
@KeithKohl1 on Twitter
A true insider in the energy markets, Keith is one of few financial reporters to have visited the Alberta oil sands. His research has helped thousands of investors capitalize from the rapidly changing face of energy. Keith connects with hundreds of thousands of readers as the Managing Editor of Energy & Capital as well as Investment Director of Angel Publishing's Energy Investor. For years, Keith has been providing in-depth coverage of the Bakken, the Haynesville Shale, and the Marcellus natural gas formations — all ahead of the mainstream media. For more on Keith, go to his editor's page.
Energy Demand will Increase 58% Over the Next 25 Years
Trillions will be spent to secure the world's energy supply over the next two decades...and all sources are on the table. Oil, natural gas, solar, wind. There will be money made. Follow the money trail. Sign up for Energy and Capital now - it's entirely free!
We never spam! View our Privacy Policy
After getting your report, you'll begin receiving the Energy and Capital e-Letter, delivered to your inbox daily.